Amazon Gift Card vs Visa Gift Card [Which is Better?]
Disclosure: This post may contain affiliate links. I may get a commission if you decide to purchase through my links, at no additional cost to you.
Amazon gift cards and Visa gift cards have become increasingly popular, each with various applications & limitations. However, what are the key differences between them? If you're looking to purchase one, which will serve you better?
Amazon Gift Cards are preloaded physical or e-cards redeemable in Amazon stores or assigned affiliates. You can use them to pay/subsidize the cost of their products/services. On the other hand, any physical or online service that normally accepts Visa Credit/Debit Cards will accept Visa Gift Cards.
In this article, I'll discuss both gift cards along with their pros and cons, comparing them for you to decide on which one you should invest in.
What Are Amazon Gift Cards?
Amazon gift cards are physical or e-cards produced and delivered by ACI Gift Cards LLC – a subsidiary of Amazon.
They are prepaid with a fixed amount to shop & subscribe for thousands of goods and services Amazon or other specific sites provide. Hence, to use the amount, you must redeem it to your gift card balance on an Amazon account.
Before or after redeeming it, an Amazon gift card can serve in multiple ways, such as:
Gifts to friends & family
Amazon store purchases (online & brick-and-mortar)
Amazon multimedia services, e.g., Amazon prime video & Amazon Music
Read kindle books
It's essential to note that Amazon Gift Cards are not the same as Amazon Credit Cards. You can check out my thoroughly explained article about their differences here.
Pros of Amazon Gift Cards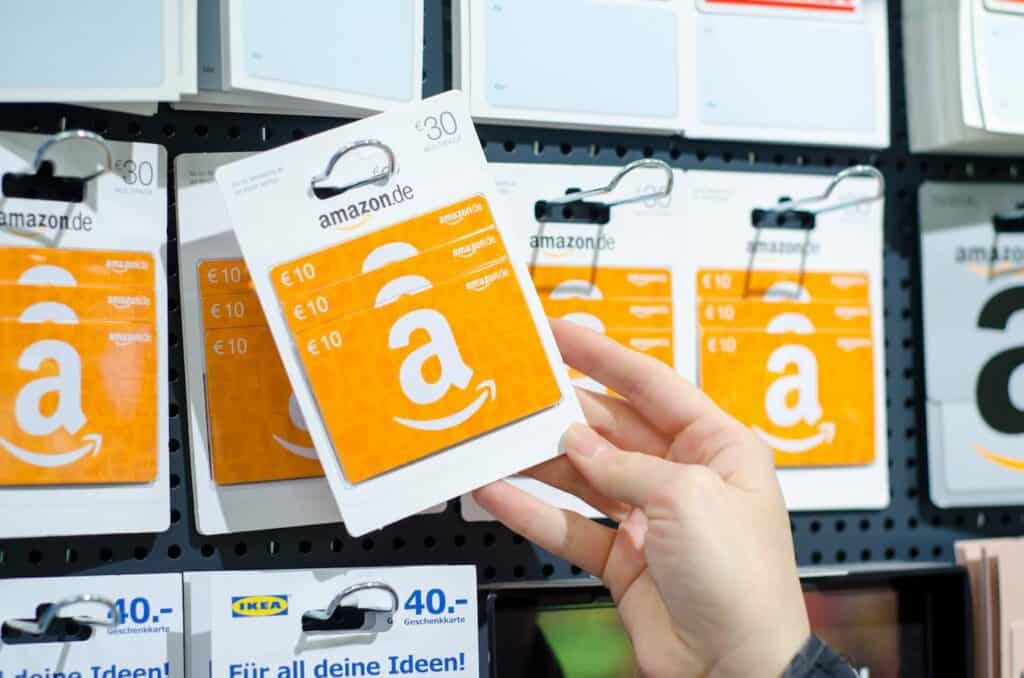 There's so much hype on Amazon Gift Cards, and rightly so, as they're extremely convenient. Although you can use regular credit/debit cards in particular transactions, here are the pros you'll enjoy by opting for these gifts instead:
No Subsequent Fees
If you've ever felt card charges are too excessive, you can avoid them altogether with Amazon gift cards.
Amazon doesn't charge extra for:
Ensuring a gift card remains active for long
Redeeming/activating the card with any Amazon service
Including theme and customized messages
You only need to pay a purchase fee ($5.95 for Americans on Amazon.com). Your preloaded amount will remain intact until you decide to exhaust it.
Local shipping of Amazon.com Gift cards around the country is also free, but you can easily print or receive the e-card.
On the contrary, many other gift cards include some charge(s) for one reason or another, which may alter the balance considerably.
Amazon Gift Cards Don't Expire
If you ever forget to send an Amazon gift card to someone as a present, rest assured you can still mail or use it, no matter how much time has passed.
Unlike every debit & credit card, Amazon Gift Cards' balance is available for use for life (or maybe until the company shuts down, which is unlikely).
However, you should know that a prepaid amount is always constant, and its currency may lose or gain value over time. For example, if you could afford a Nike Pitch Team soccer ball (available on Amazon) with $25 in the gift card before, you may not be able to afford it later. 
Check out my article for more info about Amazon Gift Card expiration policies.
Cons of Amazon Gift Cards
Despite the numerous benefits Amazon gift cards provide, they still have some setbacks, making initially interested people turn to other options. Here are some of them:
Versatility
Amazon gift cards essentially encourage you to use Amazon services online or in their brick-and-mortar stores. They cannot facilitate transactions on other websites.
However, Amazon has become so vast that the chances that you aren't interested in any of its products or services may be slim. If you're a movie lover, Amazon Prime has some great flicks. For book readers, there's Amazon Kindle. And millions of products are on sale on Amazon stores.
However, if an upcoming movie is released exclusively on Netflix, an e-book is only available in Google Play Books, and an Amazon.com product can't be shipped to your country, your Amazon gift card is almost useless.
Issues With Gift Card Redemption
People, especially first-timers, have faced so many issues with redeeming their Amazon gift cards that the company had to create a guide to help resolve them.
The issues can include:
Gift card applied to wrong accounts
Unreliable gift card claim code
Delay in completing transactions for security reasons
Not all problems can be solved, so the experience can be upsetting. However, if you carefully follow the steps I've shared in my previous blog post to redeem your Amazon gift card, you shouldn't encounter any problems.
What Are Visa Gift Cards?
A Visa Gift (or Prepaid) Card is a preloaded card that can be physical or electronic. MetaBank, with a license from Visa U.S.A Inc, is the leading issuer in the United States and worldwide.
Like Amazon gift cards, you can control spending by prepaying a fixed amount in Visa gift cards. And every service that accepts Visa cards will allow them for transactions.
Transactions within the amount remaining on the card will be successful; if not, they will be declined like regular debit cards.
Pros of Visa Gift Cards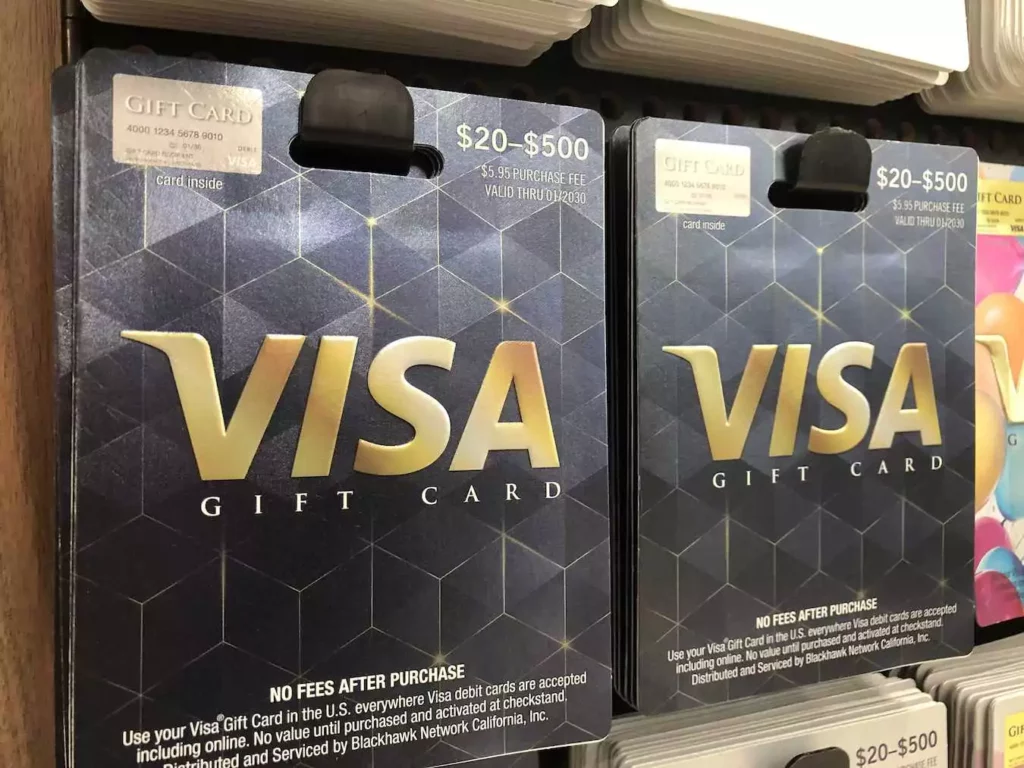 When you think of Visa cards, credit and debit ones first pop into your mind. The gift cards may not be too popular, but there are certainly benefits of using them, including:
Wide Acceptance
You can use Visa gift cards for any transactions, whenever and wherever. 
All ATMs accept them
They will work for most online dealings, like stores including Amazon
Every card swiping machine can allow them
There's virtually no limit to using Visa gift cards worldwide.
Security
You can simply call your card issuer to report if your card is stolen or goes missing. On most occasions, you won't lose your remaining balance, and they'll replace it with a new one.
You may pay for the re-issued card, but this isn't much of an issue if the amount recovered is significantly higher.
Cons of Visa Gift Cards
Visa gift cards' versatility sets them apart from many others, but they still have some disadvantages you must know, such as:
Difficulty in Ascertaining the Balance
Compared to other gift cards, like Amazon's, finding out the amount remaining on Visa gift cards can be stressful.
The best way to be sure is by gradually deducting every charge spent from the preloaded balance till it's exhausted. However, you can calculate wrongly and fail to use up the whole amount or get embarrassed when it's declined because there aren't enough funds.
Visa recommends you call the toll-free number behind the card to ask for it. You can also visit the card's issuer's website and check by inputting your card's 16-digit number and security code.
Visa Gift Cards Expire
Unfortunately, if you forget to use or gift your Visa gift card early enough, you may lose it and forfeit the remaining balance.
According to WSECU, these cards can expire seven years after purchase, so you must use their funds beforehand. Some expire sooner than others.
The Key Differences: Amazon Gift Card vs. Visa Gift Card
Although Amazon and Visa gift cards are both preloaded cards, they are very different. And if you're new to the concept, here's what to consider when comparing them:
Distribution: New Amazon Gift Cards are solely distributed by an Amazon Subsidiary – ACI Gift Cards LLC, and sold on the Amazon store. On the other hand, Visa gift cards are distributed by many financial companies in partnership with Visa U.S.A Inc. Such companies include InComm Financial Services, Inc. and the MPS division of MetaBank. They are also on sale in Amazon stores.
Usage: You can only use Amazon gift cards to transact only on Amazon websites and certain affiliates. However, you can use Visa gift cards wherever regular Visa debit/credit cards are accepted, including Amazon websites.
Amount: The amount you can preload on Amazon gift cards ranges from $1 to $2,000. However, the minimum and maximum funds possible for Visa gift cards are $10 and $1,000.
Required code: You only need your Amazon gift card claim code to redeem the funds in it. It is an alphanumeric digit of between 14 to 15 characters. However, more numbers are involved since Visa gift cards are like credit/debit cards. It has a primary 16-digit number with an expiration date in front and CVV at the back. You'll also need to set a PIN for it.
Expiration & Charges: Amazon gift cards don't ever expire and will still retain the balance for as long as possible. On the other hand, Visa gift cards have expiry dates and charges that can significantly affect their remaining amount.
Amazon Gift Card vs. Visa Gift Card: Which Should You Buy?
It's impossible to objectively recommend one card over the other because both of them come with unique perks and drawbacks.
If you're familiar with or love Amazon's services, go for their gift card, which is charge-free and doesn't expire. However, you can't use it anywhere else.
However, visa gift cards are better if you don't want to be restricted to Amazon products & services. You can use a Visa gift card anywhere Visa credit/debit is accepted, including every Amazon website. Just consider that:
It is relatively tasking to ascertain the remaining balance.
They have expiry dates.
They are subject to various charges.