Can I Use Amazon Gift Card at Whole Foods? Full Guide!
Disclosure: This post may contain affiliate links. I may get a commission if you decide to purchase through my links, at no additional cost to you.
Amazon gift cards are a great way to load up your Amazon account without the hassle of entering and verifying credit or debit card details. They also make for well-received gifts for any occasion as they allow the receiver to buy themselves anything they want. If you're a Whole Foods fan and have an Amazon gift card, can you use it in store?  
You can't use an Amazon gift card at Whole Foods, even though Amazon acquired Whole Foods in 2017. Amazon gift cards can only be used for purchases on the Amazon website or app. However, Amazon Prime members can enjoy exclusive perks and other benefits when shopping at Whole Foods. 
The rest of this article explains how Amazon gift cards work and how to redeem them. I'll also explain the perks you can get at Whole Foods if you're a Prime member. 
How Do Amazon Gift Cards work?
Like most gift cards, Amazon gift cards are purchased with pre-loaded amounts. Amazon gift cards come in the following denominations:
You can buy as many as you need to come up with the amount you would like to give as a gift.
Amazon gift cards are as good as cash, except you can only buy items on the Amazon website or app. They provide a great way to gift your friends and family without stressing over what to get them, and also save you from the awkwardness of giving a cash gift. 
Amazon gift cards can be bought physically or digitally. Similarly, they can be given as gifts physically, through email, or postal mail, depending on how you would like to deliver the gift to the recipient. Since Amazon gift cards can be valid for around ten years, you can buy them long before the occasion. 
Also Read – Can Amazon Gift Cards be Used Anywhere? The Complete Guide!
Amazon gift cards aren't just for gifts. Amazon users have learned that they are a great way to load up their Amazon accounts while bypassing the often annoying process of entering credit or debit card details. With Amazon gift cards, you can bless yourself with the gift of added convenience.

Buying gift cards for personal use are also a great way for impulsive buyers to limit spending. Paying with your gift card balance helps cap how much you spend. 
How To Redeem Your Amazon Gift Card?
Redeeming an Amazon gift card is the same, whether you've received it as a gift from someone else, or you bought it for yourself. 
You can also buy an Amazon gift card without Prime membership. To redeem your gift card, follow these steps to top up your account or start spending the gift card:
Sign in to your Amazon account. 
Choose a gift card you would like and pay with a secure payment method. You will receive an email with your gift card within seconds.
Find the option that reads "Gift Cards and Top Up". This will take you to the option to "Redeem a Gift Card". Click on that.
Enter the unique code on your gift card, et voila! Your funds will instantly be reflected in your account.
You can use your gift card as a payment to purchase any of the millions of items in the Amazon store. 
Amazon Prime Membership Perks at Whole Foods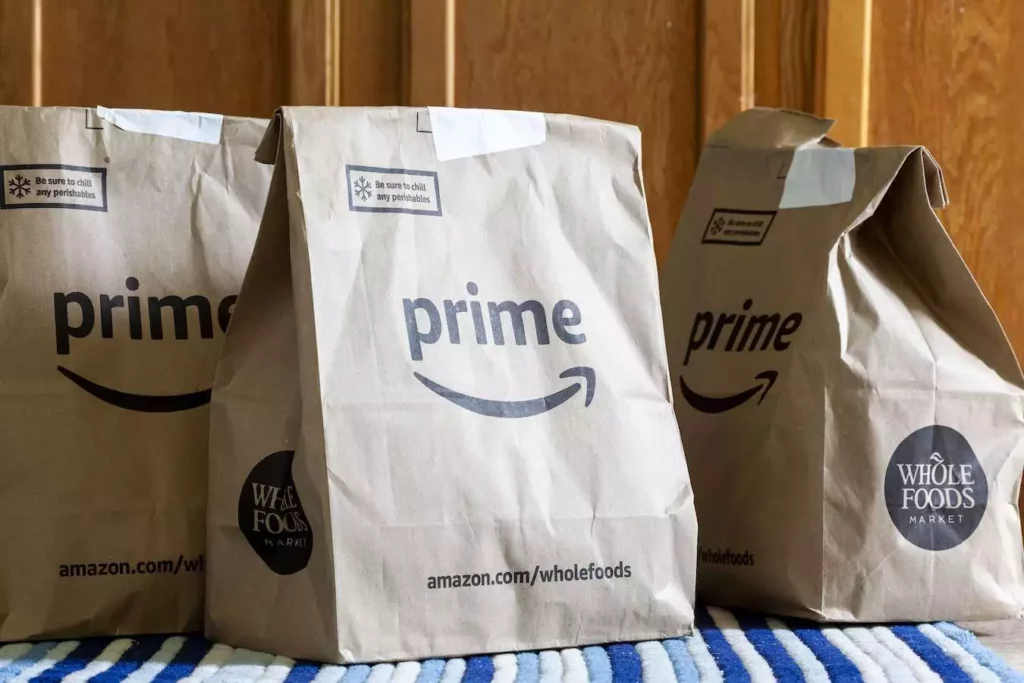 While it's unfortunate that Amazon gift cards are not redeemable at Whole Foods stores, there are many other perks and benefits for Prime members to enjoy. And this applies to annual, monthly, or student annual and monthly memberships. 
If you're still considering a Prime Membership, here's a summary of the different membership plans to choose from:
Annual Membership: $139/year
Monthly Membership: $14.99/month
Annual Student Membership: $59/year
Monthly Student Membership: $6.49/month
Perks for Prime Members at Whole Foods
Prime membership perks at Whole Foods can change from time to time, and there are also seasonal sales. 
Here are the perks of Prime membership at Whole Foods:
10% off on selected products
Prime day deals at Whole Foods
5% cashback at Whole Foods for Amazon credit card holders
Contactless pick up
Free Amazon pick ups and returns
Whole Foods Prime delivery
I'll discuss these benefits in more detail below: 
10% Off On Selected Products
You can get 10% off items at Whole Foods. Keep your eyes peeled for those blue signs because they indicate that the products are marked down for Prime members. To receive the discount, simply scan the Amazon code on the blue signs using your Whole Foods app, and the discount will be instantly applied. 
Prime Day Deals at Whole Foods
Since the acquisition of Whole Foods by Amazon, Prime Day Deals and other Amazon discounts can now be enjoyed at Whole Foods. Be aware of sale days, and get ready to benefit from great deals at the physical or online store. 
5% Cashback at Whole Foods Market for Amazon Credit Card Holders
A cashback always sounds like a dealmaker, and that's precisely what Amazon credit card holders get for shopping at Whole Foods, as they get 5% cashback. 
Other benefits for credit card holders are 2% cash back at restaurants, gas stations, or pharmacies. These rewards can accumulate and be redeemed as cash for your spending discretion. 
Contactless Pick Up
Another great advantage for Prime members is contactless pick-up. For purchases above $35, this service is free. Shop on the Whole Foods tabs on Amazon.com and do your shopping from the comfort of your couch. 
When you're ready to check out, select a one-hour window and finalize your order. You'll receive an email confirmation that your order is being processed, and pick-up instructions later. 
Some stores have designated areas for pick up, while others require you to go into the store to pick up your order. Many stores have designated parking, and one of the store workers will bring the items to your car. 
This perk has served Prime members well during the pandemic when many of us grappled with anxiety about being out in public. 
Free Amazon Pick Ups
Some people avoid having orders delivered due to an unpredictable schedule. Amazon pick-up lets you have your parcel delivered to the nearest Whole Foods near you.
You can pick up the package from an Amazon Hub counter or Amazon pick-up locker at your convenient time. Although it will cost you a trip to the nearest Whole Foods to pick up the package, at least it's kept away from the eager hands of porch pirates. 
Free Amazon Returns
Amazon Returns make it convenient for you to return purchased items to the seller. It certainly beats the hassle of having to mail it back yourself. All you need to do is start the process from your Amazon account, select the nearest Whole Foods and drop it off. 
Show them the QR code sent through your email, and they'll have their people pack it up for you and send it on its way. 
Whole Foods Prime Delivery
This service allows you to place an order online via the Whole Foods app. After check out, all you have to do is wait to have the order delivered to your front door. The service fee for delivery is $9.95. Tips are at the discretion of the buyer.