Can You Use Amazon Gift Card at Target? [Full Guide!]
Disclosure: This post may contain affiliate links. I may get a commission if you decide to purchase through my links, at no additional cost to you.
Amazon gift cards provide a flexible way to spend money. The buying options on Amazon are virtually unlimited, so you can buy pretty much anything you want with an Amazon gift card. However, is it possible to spend Amazon gift cards elsewhere, such as Target?
You cannot use Amazon gift cards to purchase goods from Target. You can only spend Amazon gift cards on goods sold at Amazon.com and Amazon stores. Furthermore, Target doesn't allow the use of third-party gift cards for in-store purchases. 
While you can't use an Amazon gift card to buy goods at Target, you can still buy a lot with your Amazon gift card. Read on to learn about Amazon and Target's gift card policies and why you can't purchase items from these stores with third-party gift cards. 
Amazon's Gift Card Limitations
When you purchase or receive an Amazon gift card, Amazon's policy requires that you spend the gift card balance in Amazon stores. When you redeem the gift card, the funds are added to your Amazon account and cannot be transferred to any other account. 
These funds can go towards the following Amazon purchases:
Store items on Amazon.com.
Amazon Prime subscriptions.
Amazon Prime rental purchases.
Amazon Kindle purchases.
Amazon Fresh and Whole Foods Market purchases. Note that you can not use Amazon gift cards at Whole Foods Markets for purchases.
Amazon gift cards cannot be spent on all Amazon services, most notably Audible. For more information about why you can't use an Amazon gift card for Audible purchases, check out my article on why you cannot use Amazon gift cards on Audible.
In other words, if you have an Amazon gift card, it can only be redeemed through Amazon. You cannot spend the gift card's balance on Target or any other retailer that is not Amazon. The same is true for Target gift cards, which can only be redeemed at Target stores.
Must Read – How to Convert Amazon Gift Card Balance to Cash? [Full Guide!]
The reason Amazon and other retailers have this policy is to ensure money paid to the retailer stays within that retailer. If you purchase a gift card from Amazon, that card is a pre-paid balance on Amazon's store. Unfortunately, it is not a credit balance you can spend on other retailers. 
Further, Amazon and Target are both retailers competing for very similar consumer markets. Because of this competition, neither Amazon nor Target allows the use of third-party gift cards at their stores. 
What Is a Third-Party Gift Card?
When you purchase an item at Amazon or Target, you are the first party, and the retailer is the second party. Any additional party you bring into a purchase is considered a third party. 
In this situation, if you attempt to purchase an item at Target with a non-Target gift card, it is considered a third-party gift card. The gift card is not sold by Target and is regarded as an alternate currency. 
Related Article – How to Use Amazon Gift Card to Buy Gas? [9 Ways To Do It!]
Retailers typically don't allow third-party gift cards because they can't legally redeem the balance on those cards. The only situation where third-party gift cards are acceptable is when both retailers have an agreement that allows the transfer of a specific company's gift card balances. 
Can You Use Third-Party Gift Cards at Target?
When you shop at Target, you cannot use third-party gift cards to make purchases. This rule applies to Amazon gift cards and any gift cards not sold by Target. 
While Target doesn't allow third-party gift cards to make purchases, they do enable purchases with prepaid cards from the following credit companies: 
Visa
Mastercard
Discover
American Express
Additionally, you can use Target gift cards to make purchases at Target. However, you cannot make the following purchases with a Gift Card: 
Redcard payments.
Other Target gift cards.
Any third-party gift card sold at Target locations.
Minute Clinic sessions within Target Stores.
Can You Use an Amazon Gift Card Outside of Amazon?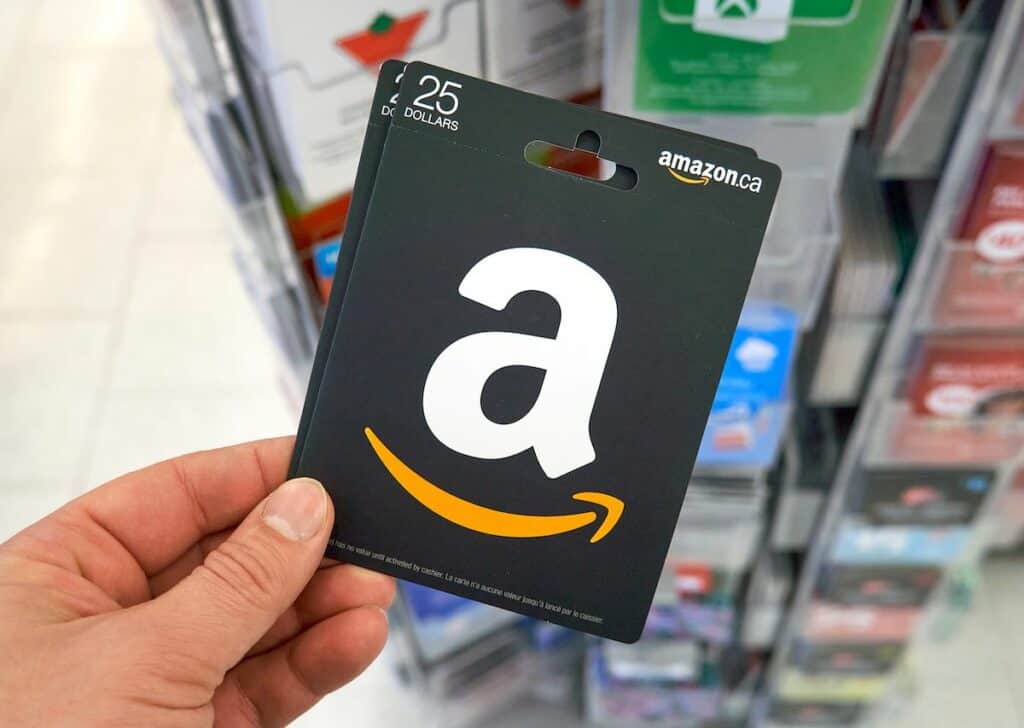 In almost all cases, Amazon gift cards can only be purchased and redeemed on Amazon.com or in Amazon stores. The exception to this rule is that you can spend your Amazon gift card balance on Amazon affiliate programs.
Amazon affiliates have a contract with Amazon that allows them to sell goods through Amazon with links to products on the affiliate's website. The affiliate makes up to 10% in commissions for each sale sold through Amazon. You can still purchase items with your gift card this way. However, the purchase must be through Amazon.
Also Read – Transfer Amazon Gift Card Balance to Your Bank Account! [Full Guide!]
Additionally, Amazon has affiliate properties–such as Smile.Amazon–where you can spend your gift card balance. In each of these situations, it should be noted that Amazon is still collecting the gift card balance. Amazon does not allow you to spend their gift cards anywhere they don't receive the gift card credit. 
Can You Use Target Gift Cards Outside of Target?
You cannot use Target gift cards to make purchases outside of Target brick-and-mortar locations or on e-commerce websites not owned by Target. The balance credited to a Target gift card must be spent at Target. 
However, you can still use your Target gift card balance at retailers within or owned by Target. Target allows their gift cards to be redeemed for the following purchases: 
Any item at Starbucks located within Target stores (Independent Starbucks locations are excluded).
Any item at in-store CVS pharmacies (Independent CVS locations are excluded).
At Target Cafes.
At Target Optical (online purchases cannot be made at Target optical with a gift card).
Can You Buy an Amazon Gift Card at Target?
Target does not sell Amazon gift cards. Additionally, Amazon doesn't sell Target gift cards. The two retailers are direct competitors and don't associate their businesses in any way. 
This competition is also the reason why you cannot purchase Target brand items on Amazon and vice versa. However, many items are sold by both retailers, and generally, market prices are relatively stable between both companies. 
Additionally, Target sells many gift cards for various other retailers on their online store and at Target store locations. 
Some of the more popular gift card options Target offers include: 
Food Services: Domino's, Chipotle, Panera Bread Co
Gaming Services: Microsoft, Playstation, Xbox
Entertainment Services: Apple, Google Play, eBay
Streaming Services: Netflix, Hulu, AMC
Prepaid Debit Cards: Visa, Mastercard, American Express
Where Can You Get Amazon Gift Cards Outside of Amazon?
While you can't purchase Amazon gift cards from Target locations, you can still get them at several retailers outside of Amazon. Remember that while you can buy Amazon gift cards from non-Amazon retailers, you can only redeem their balance through Amazon. 
You can purchase Amazon gift cards from the following large retailers: 
7-Eleven
Apple Market
Circle K
CVS Pharmacy
Dollar General
Family Dollar
Game Stop
Kmart
RadioShack
Sears
Staples
Walgreens
Additionally, there are several hundred smaller retailers that offer Amazon gift cards. Most of these are regional or local stores, gas stations, and retail chains offering Amazon gift cards near the checkout. 
Can You Transfer an Amazon Balance to a Target Gift Card?
Unfortunately, you cannot transfer the balance from your Amazon gift card to a Target gift card. Once you pay for or receive an Amazon gift card, Amazon has received that money, and you cannot redeem the gift card anywhere outside Amazon or its affiliate properties. 
Similarly, Target gift cards issued after October 1st, 2020, cannot be returned for cash at Target locations. Cards purchased before that date can be redeemed for cash or store credit. However, despite the fact that target gift cards don't expire, it's unlikely you'll redeem a gift card purchased before that date.