Can You Use Amazon Gift Card for Prime Membership? [Guide!]
Disclosure: This post may contain affiliate links. I may get a commission if you decide to purchase through my links, at no additional cost to you.
Amazon gift cards are extremely versatile, which is why it might seem like a good idea to use them for your Prime membership, especially if you have accumulated enough balance on them. However, is it possible to do it? The good news is that while you might need to take an extra step in the process, yes, it is possible.
To use your Amazon gift card balance to subscribe to Amazon prime, you must first buy the Gift of Prime. Basically, you buy a special gift card with your Amazon gift card. Then you use the Gift of Prime to pay for your subscription. 
Keep reading through the following sections if you want to learn more about the Gift of Prime and how to use it. In this article, I'll also discuss the benefits of Prime membership. Finally, I'll examine the purpose of Amazon gift cards and whether they are worth buying. 
How To Use an Amazon Gift Card for Prime Membership?
You cannot use an Amazon Gift Card directly for Prime membership. You must purchase a special Gift of Prime card that you can buy with your Amazon gift card balance. If you are a member, cancel the membership and then use Gift of Prime to purchase a new membership.
To cancel your Prime membership, you should take the following steps:
Open your Amazon account. 
Go to the Manage Prime Membership page. 
Click the End Membership Button. You should prepare for endless clicking. Like with all subscriptions, it won't be easy to end the membership. Make sure to keep clicking the Continue to Cancel button. 
Open the mail you use for your Amazon account and wait for the confirmation email. It should say that you have successfully canceled your Prime membership.
Once you are no longer subscribed to the Amazon Prime service, proceed to purchase the Gift of Prime. 
What Is the Gift of Prime?
A Gift of Prime membership allows a person to buy a gift card intended explicitly for purchasing an Amazon prime subscription. You can buy it as a gift or purchase it for yourself. 
The Gift of Prime includes many benefits, including but not limited to all other Amazon gift cards. First of all, it cannot expire. This means that you don't have to worry about spending your balance too soon on some item you don't really need. You can buy it, store it safely, either in an electronic or physical form and use it when it is the most convenient for you.
Moreover, you can exchange it for another gift card if you are already an Amazon Prime member. Although you're bound to use the gift cards for Amazon services, you're not tied to one service only. If you don't need Amazon Prime, swap your gift card for another more helpful service.
The Gift of Prime option is only available for the US market. Therefore, if you don't have an Amazon.com account, you will not be able to purchase the Gift of Prime. When it comes to Amazon services, they all depend on the location of the user, and the offers vary from one country to another.
To buy the Gift of Prime, you should take the following steps:
Go to Give the gift of prime and choose your membership. You have two options: subscribe for three months or a full year. The yearly option seems more favorable.
Next, click on the Add Prime to Cart option. 
Proceed to checkout. 
You should now select the recipient. You can buy it for someone else or buy it for yourself. If the recipient is you, enter your email address and the delivery date. You can set it to receive it the same day or as far as a year ahead.
As your preferred payment method, choose Gift Card and then enter the code you have on your card. You should know that when paying with a gift card, you lose the option to receive a one-month free trial.
The next step is placing your order. 
You should now be able to redeem your membership. Open your email and follow the instructions for redeeming the Gift of Prime. 
Click on the Start enjoying Prime button.
Are Amazon Gift Cards Worth It?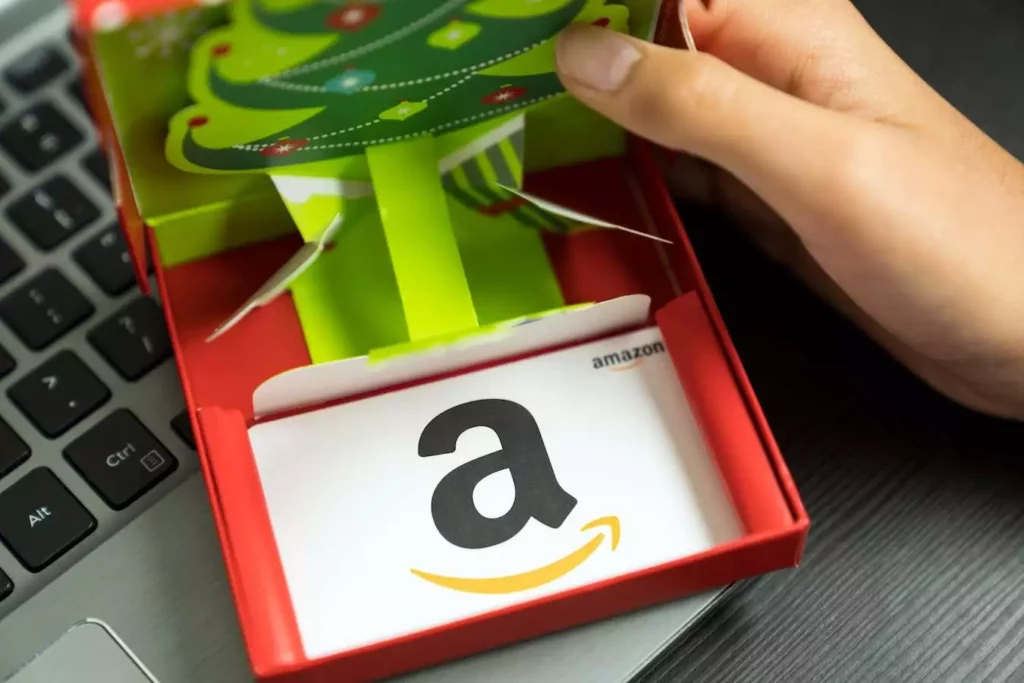 Amazon gift cards are generally worth it. First of all, they don't expire. If you tend to overspend, using gift cards this feature might save you money. Moreover, they can make you focus on one store and limit the amount of money you're willing to spend.
I think the best feature of Amazon gift cards is the option to use them more than once. This means you don't need to use all your balance on one checkout. It gives you the freedom to shop for less expensive products and services. 
On the other hand, if you need to buy a more expensive item, you can gather the amount from several gift cards and use them for a single purchase. You can take your time to save money from the gift cards because the gift cards don't expire. If you want to read all about the benefits of using Amazon gift cards, check this Complete Guide.
Are Amazon Gift Cards Free?
Amazon gift cards are not free. Unless you receive a gift card as an actual gift, you most definitely have to pay for it. On the upside, you can choose to purchase any balance. You can choose any sum of money starting from $1 and going up to $2000. 
You can win a gift card in a giveaway if you are lucky enough. Another way to earn a gift card is by spending time on a free gift card app. However, you might agree that time is money and that wasting your time is another currency to pay for the gift card. All in all, although there are benefits to having an Amazon gift card, there are no easy ways to obtain it for free. 
What Are the Amazon Prime Benefits?
Amazon Prime comes with a wide array of benefits, especially for the avid shopper. The subscription makes you eligible for free same-day or one-day shipping. If you are not qualified for free shipping or the order is too big, the price will not go beyond $2.99 per order.
In addition to shopping and shipping perks, the membership includes services such as Amazon Music and Amazon Reading, unlimited cloud for photo storage, Prime Video, and many discounts and early access deals. Amazon Prime also allows you to share your subscription with up to two adults within a household or up to four teenagers.
Does Amazon Prime Include Prime video?
Prime Video is included in the Amazon Prime membership. With it, you can stream thousands of free videos on various devices. There are also options to rent or buy certain video content. You can always buy a stand-alone Prime Video subscription which will cost you $5.99 per month. 
If we go back to the original question, whether you can purchase Prime Video with a gift card, the answer is no. If you buy Prime video without Amazon Prime, you can only choose your credit card as a payment method. There is no Prime video gift card membership option at the moment.