Is Kindle Worth It in 2023? Complete Explanation!
Disclosure: This post may contain affiliate links. I may get a commission if you decide to purchase through my links, at no additional cost to you.
The first iteration of the Kindle was introduced by Amazon to the world in 2007. Today, it remains one of the most popular e-readers for book fans around the globe. Is a Kindle really a worthwhile investment?  
Kindle is worth it if you love reading, as you can build a sizable digital library on a portable device. Kindle's e-ink display is similar to reading a print book, so it isn't harmful to your eyes. Buying books from the Kindle Store is also cheaper than buying physical copies of books. 
I will explain the benefits of getting a Kindle and its advantage over print books. Also, you will get to know how the Kindle ecosystem works and some additional features you can expect from the world's most popular e-reader. 
Quick Tip! If you want to avoid reading the full article, and just want to know which Kindle to buy, I recommend purchasing this Kindle model, as it gives you the best bang for your buck!
Benefits of Getting a Kindle Over Paperback 
Why get a Kindle when print books are still circulating for hundreds of years? There are several upsides to owning a Kindle over a paperback. Let's talk about why Kindles are so popular and how e-ink technology has made reading more enjoyable and efficient. 
Portability 
The small form factor is a massive plus of a Kindle device. You can read your favorite books on the go without breaking your back. The Kindle tablet is slim, so you can slide it into a small backpack or a handbag without worrying about bulk. 
Kindles come in 8GB or 32GB storage options, but a single e-book won't take up a lot of memory space. 1GB of memory can hold around 300 books. This makes getting a Kindle a great option if you do long-haul flights often, where weight restrictions and long hours of doing nothing are a thing. 
Students will know the pain of lugging thick academic books around for studying. Kindles provide an alternative by letting you save electronic textbooks and journals for studying. However, it can be difficult if you want to skim-read or quickly jump to a particular section, which can be easier with an actual book. 
Eye Health 
Studies have proven that reading on Kindle's e-ink display is better for maintaining eye health than on other digital displays such as iPads or laptops. E-ink technology is designed to mimic the visual experience of reading on paper, which is less strenuous on our eyes. 
Researchers from Harvard Medical School found that reading off a Kindle in the dark does not affect sleep hygiene because the tablet's display does not emit light. While reading from paperbacks delivered the same results, reading text off an iPad caused participants to take more time to nod off.
This, in turn, meant the participants with the light-emitting device had lower sleep quality and felt more tired the following day. 
The Kindle's e-ink display relies on positively and negatively charged microcapsules influenced by an electrical field. Unlike LCD screens, there is no backlight in e-ink screens. Instead, ambient light from our surroundings reflects the text towards our eyes, much like reading off a printed book. 
Sustainability
It's plain to see that e-readers have the capacity to drastically reduce the number of physical books a Kindle owner would buy. Switching to owning a digital library means less paper, and less paper means reducing the amount of paper waste going into the environment. 
Although Amazon started as an online bookshop, it has oriented itself to become a sustainable business with net-zero carbon emissions by 2040. Today, Amazon is one of the largest e-book sellers, thanks to the Kindle. It marks their efforts towards sustainable digital publishing over traditional paper printing. 
According to a study on publishing practices, paper manufacturing takes third place for the consumption of fossil fuels and is the second biggest emitter of greenhouse gasses. Combined with more than two billion books being published annually in America, e-readers prefer traditional print for bookworms who advocate sustainability.
Convenience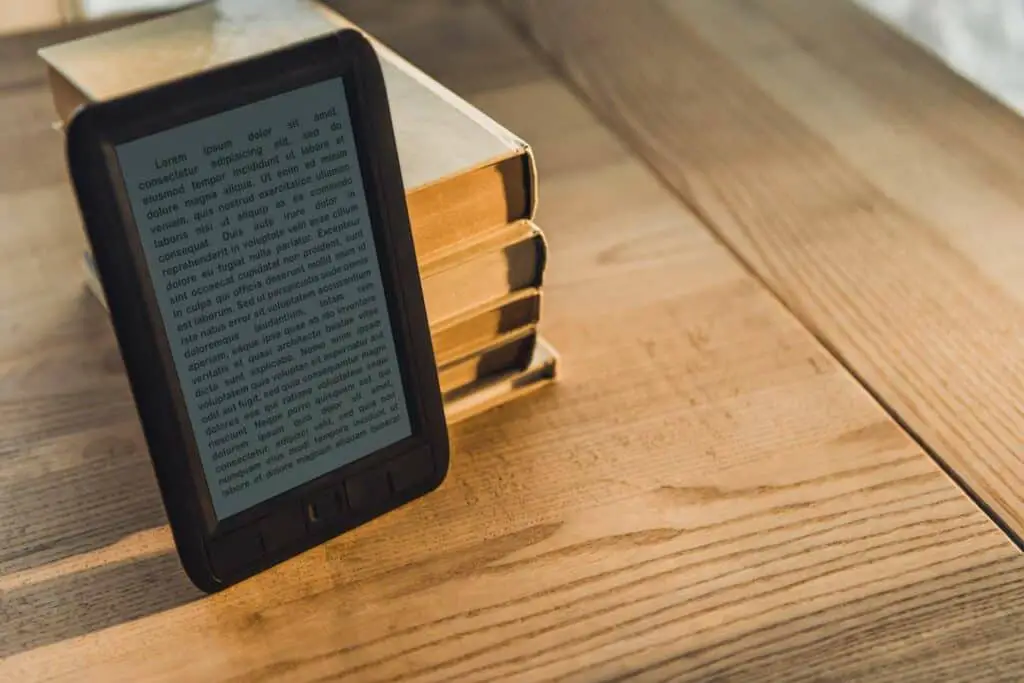 The Kindle makes accessing the books you love convenient and hassle-free. When you download a book into a Kindle, you can access it offline whenever you want. The same goes for e-library loans, but you will need to check them out again past the due date.
Since Kindle operates on cloud-based storage, you can remove and redownload books if you need to from your virtual library. Having your favorite reads readily available to you in one place beats looking for a long-lost book in the back of your bookshelf.  
With the internet being everywhere in today's world, having the option to read a book of interest without suffering from stuttering connections can be a relief. This is also great if you're considering getting a Kindle Kids Edition for children (available on Amazon). You can keep them reading without having the book disappear due to bad connectivity. 
Economical 
Buying e-books from the Kindle Store is much cheaper than purchasing print books. The cost of creating a virtual book is a lot less than what goes into publishing hardbound or paperbacks. 
Additionally, there are some titles on the Kindle Store that you can get for free. Books like the classics are free to read on Amazon's website. Unlike ordering a new book, you also don't have to pay for shipping — books are downloaded straight into your virtual library. 
What Can a Kindle Do?
A Kindle is a small, handheld device designed for reading e-books. You can get e-books downloaded straight from Amazon's Kindle Store, or you can download books from a third-party source and upload it to the device yourself. 
Apart from reading, the Kindle also has extra features that users can enjoy. Read on to explore what else this e-reader can do. 
How Do You Get Books on Your Kindle? 
If you've never had a Kindle, you may wonder how the service works. 
First, you will require an Amazon account. Once you have logged on, you can begin borrowing books through the Kindle Store on Amazon. There are several e-reading services available from the Kindle Store: 
Kindle Unlimited and Prime Reading require you to sign up for paid monthly subscriptions to read as many books as you want from either service. On the other hand, Kindle Books and Kindle Vella let you purchase or read titles one at a time. 
With Kindle Books, you can purchase stand-alone titles from the store to download to your library. You can also use Amazon Gift Cards with Kindle Books — check out my guide on using Amazon Gift Cards for Kindle. In my guide, I also tell you how you can gift Kindle Unlimited to a friend or family member who loves to read. 
Want to read a title on your Kindle, but the e-book isn't available on Amazon? You can also download digital books from an external source and upload them to the device. Or you can also send e-books to a Kindle using the Kindle email address.
Kindle Features
Read Articles Later 
Saved an article for later on your web browser or PC? Did you know you can read articles on a Kindle, too? You can either send long-form articles straight from your web browser or have the file downloaded to a computer first. 
The Kindle supports most file formats, so you will have no trouble opening documents in the following file types: 
Word documents
PDF
MOBI
EPUB
To send a file to a Kindle, you will need to create an Amazon account first. Once done, you can download the file to your Kindle or utilize Amazon's Send to Kindle extension for Google Chrome. This extension allows you to send whole articles or selected text to a Kindle. 
Alternatively, you can download browser extensions like Instapaper to save and organize articles you want to read on your Kindle. However, you need a premium subscription to use this feature on Instapaper. It is best to use this extension if you regularly bookmark articles to read for later. 
Highlight and Annotate 
Read a quote that resonates with you? You can highlight the phrase to save it for later. Kindle keeps your highlighted passages in the cloud, so you can access them from anywhere, even if the e-book has been returned. 
Play Games 
While you won't be playing anything graphic-heavy on a Kindle, you can still play simple games that don't require a high refresh rate. Though, do note that these games will appear in grayscale. The games you can find on Kindle's Active Content shop are: 
Sudoku
Crossword puzzles
Wordle
Scrabble
Audiobook Playback
Kindles come with audiobook playback, though there is a caveat. Because the tablet itself doesn't come with built-in speakers, you will need to rely on an external audio output to listen to any audiobooks you have. 
The app that Kindle uses for audiobook organization is Amazon's Audible platform. You can purchase and download titles to any Kindle you have registered with your Amazon account through Audible. You will also need a pair of Bluetooth earphones or headphones to listen to your downloaded audiobooks. 
Older generations of the Kindle (pre-2016 models) can't purchase audiobooks straight from Audible. However, you can still upload any audiobooks you have via a USB cable from your PC.