Can You Send Amazon Gift Card Anonymously?
Disclosure: This post may contain affiliate links. I may get a commission if you decide to purchase through my links, at no additional cost to you.
An Amazon gift card makes an excellent and flexible gift for any occasion. Sometimes the philanthropist spirit takes over, and we want to send a gift anonymously. If you want to send someone an Amazon gift card, can you send it anonymously? 
You can send gift cards anonymously through Amazon. However, there is no pre-selected option for doing so. To send gift cards anonymously, you must omit or alter the gift receipt so the sender remains unknown. 
While there isn't a special feature to send gifts anonymously on Amazon, it's possible to do so with a bit of moxie. Read on to learn about Amazon's gifting policy and how you can send anonymous gift cards. 
Amazon's Gift Policy
Thankfully, the days of shopping all day for the perfect gift for a loved one are long gone. 
With the advent of e-commerce sites like Amazon, gifting is easy and just a few clicks away. 
While items must be fulfilled by Amazon to be gifted, the vast majority of items, including gift cards, on Amazon are available for gifting. One of the best features of Amazon gift cards is the fact that they don't expire, and can be used for almost any purchase on Amazon's shopping platform. However, individuals cannot use Amazon gift cards to purchase other gift cards. 
Individuals can alter personal information on the packing slip to remain anonymous. Also, Amazon allows individuals to omit prices and personal data from the gift's packing slip. Not including a gift receipt during a gift card purchase automatically hides the sender's information. 
How Do You Send a Gift Through Amazon?
Items fulfilled by Amazon, including gift cards, can be sent as gifts. This option is presented as a checkbox while viewing your cart and an "add gift options" button during checkout. Selecting either brings up a gift options form (during checkout) you must fill this out before checking out. 
The main advantage of sending items as gifts is that your personal information is omitted on the packing slip. A secondary benefit is the option to gift wrap the order. 
An itemized list of items on the order
Their dimensions
The billing address
The recipient's address
Amazon hides the price and billing address on gift packing slips. Further, they give you the option to include a personalized message with the order. 
While there isn't a specific option you can select to remain anonymous on Amazon, you do have complete control over the gift message and name on the packing slip. Amazon does not allow you to leave the name form blank. However, you can list your name as anonymous or similar to create the same effect. 
Why Isn't There an Anonymous Gift Option at Checkout?
A button or small checkbox to specify anonymity would be very helpful for individuals who want to send anonymous gifts. However, Amazon has policies that don't allow complete anonymity when sending gifts, including gift cards. 
Amazon requires you to fill out a form providing a name and message for the gift recipient so they can determine its origins. 
This practice prevents individuals from receiving items they didn't intend to buy while allowing efficient gift returns. Recipients can return gifts, providing Amazon's return policy covers the item in question. 
Can Individuals Return Anonymous Gifts on Amazon?
It's possible to return anonymous gifts if they are eligible for returns, as long as you include the gift's order number. Fortunately, all Amazon gift cards are eligible for return and can be refunded into your gift card balance. 
When someone receives a gift card, they can use the order number on the packing slip to find and return the order to Amazon. Typically you need to send a gift back in its original condition to get a full refund. For gift cards, you need to type in the order number and ask for a refund. 
The refund will be credited as an Amazon gift card to the recipient's account, and the gift giver will not be notified of the return. Money credited this way is not eligible for instant refunds for gift recipients. 
The primary stipulation when refunding the gift card is that it will only be refunded as Amazon credit. Individuals who want to return their gift cards cannot receive a cash refund and will be required to spend that money with Amazon. 
Because gift cards are reimbursed this way, it's unlikely that recipients will need to refund them.
How Do I Send Amazon Gift Cards Anonymously?
Being able to send gift cards through Amazon is incredibly convenient. However, what if you want to be secretive about who sent the card? In these situations, you need to work around Amazon's gift policy to be truly anonymous. 
Don't Include a Gift Receipt
When purchasing a gift or gift card on Amazon, you can send a digital receipt to the recipient during checkout. Sending this receipt allows them to return the item more efficiently but also advises them who sent it. 
Because receipts are automatically excluded from the packing slip on gifts, the only thing you need to do is not check the box that sends the receipt. The information on the order slip will be the personalized message and order number. 
If you don't want to send a receipt, and send the gift anonymously, the recipient can still return the item with the order number listed on the packing slip. When the recipient inputs the order number into Amazon, the gift giver's personal information isn't listed. 
Additionally, if you want to surprise someone with a gift card and tell them later that you sent it, you can share order receipts on Amazon later by email. 
However, when you send a gift through Amazon, they still require you to fill out a personalized note and digitally sign it with a name. To avoid detection, you can take your anonymity a step further, as I'll discuss in the next step. 
Use an Anonymous Name
When you send a gift, Amazon requires you to complete a personalized note so the recipient can determine where that gift came from. Packages without any shipping information are considered suspicious and may raise red flags to gift recipients. 
However, gift card givers are free to sign the message however they want. The personalized message is optional and can be left blank. The name you sign cannot be left blank, but any combination of characters and numbers is accepted. 
For example, you can sign as "Anonymous," "Secret Admirer," "A Friend," or something that clues individuals into the intent of the gift. You can also just as easily input "." or "–," which gives the recipient a more complete sense of anonymity. 
Send Physical Amazon Gift Cards by Mail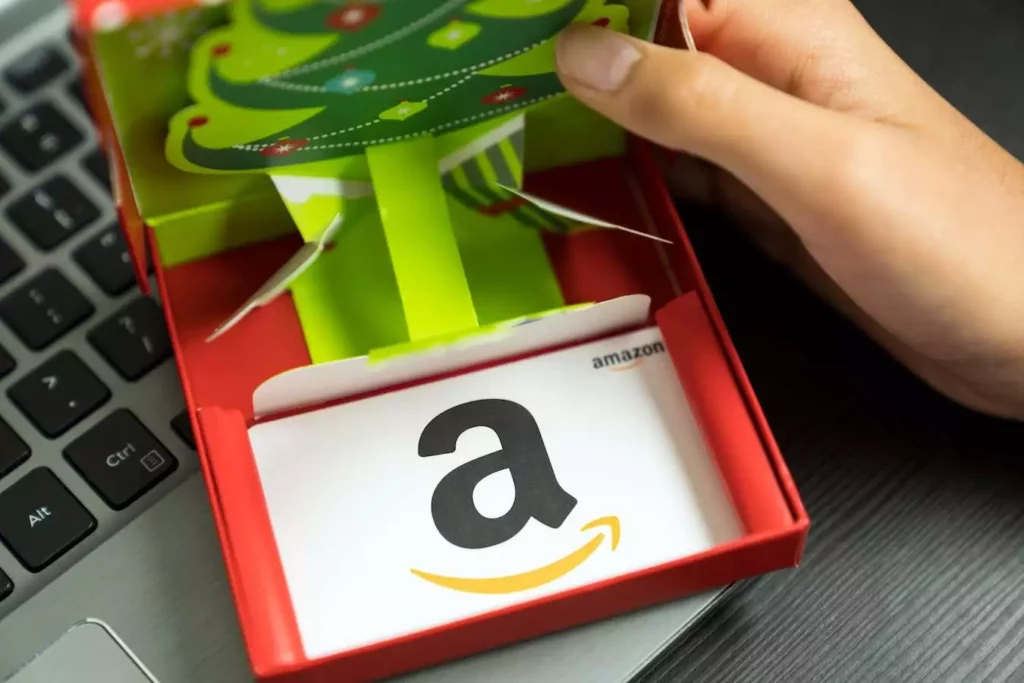 If you want to be completely anonymous when you send a gift card, you can bypass Amazon's delivery process entirely by mailing it yourself. This method prevents the recipient from discovering who sent it but has the downside of requiring the most effort. 
To send physical Amazon gift cards, go to any retail store that sells them, such as CVS pharmacy, and purchase the physical gift card. Once you have the card, mail it to the recipient without a return address. 
Keep in mind that without a return address, any shipping problems with the package may not be resolved. Missing or incorrect information could result in a wrong delivery or a lost parcel. In these instances, the lack of a return address prevents the package from being redirected and ultimately delivered.