Turn Amazon Gift Card To Cash [Here's How to Do It!]
Disclosure: This post may contain affiliate links. I may get a commission if you decide to purchase through my links, at no additional cost to you.
The Amazon website features thousands of different products, from electronics to household items, so Amazon gift cards are popular gifts. With that said, not everyone shops at Amazon often enough to make these gift cards worth their value.
If you're one of those people with an Amazon gift card and little use for it, rest assured that there are ways to turn the gift card into cash to make it more worth your while.
Turn an Amazon gift card into cash by using a gift card reseller, selling the card on Reddit, purchasing in-demand items on Amazon and reselling them, or shopping for necessities, such as groceries, to lessen your grocery bill so you can keep the cash equivalent for the week.
In this article, I'll walk you through four different ways you can turn your Amazon gift card into cash and have the funds in hand as soon as possible. Finally, I'll explain the pros and cons of exchanging a gift card for cash and whether or not it's worth it. Read on to learn more.
Ways To Turn an Amazon Gift Card Into Cash
Amazon makes it nearly impossible to turn a gift card into cold, hard cash. According to their Gift Card Terms and Conditions, customers cannot redeem an Amazon gift card for cash or return any portion of the gift card for a cash refund.
For what it's worth, Amazon now allows customers to use their Amazon gift cards to purchase Prime Memberships or even pay for Prime Video Channel subscriptions. Whether Amazon intends to expand other services to accept Amazon gift cards as payment is not yet certain.
Fortunately, there are currently a few ways that you can turn Amazon gift cards into cash, although not directly through the Amazon website.
While you are at it, make sure to check out my other article, where I share ways to transfer your Amazon gift card balance to your bank account!
Let's look at several of those methods more in-depth.
Amazon Gift Card Reseller Services
Gift card reselling services allow people to buy (usually at a discount) or sell merchant gift cards. In most cases, sellers typically break even or sell the card for less than its value. Interestingly, non-luxury brand gift cards tend to sell for more compared to luxury brands, so Amazon gift card sellers are in luck!
Some sellers claim returns as high as 92 percent, though this is the exception, not the rule. In most cases, you're looking at a return between 65 to 75 percent, so in most cases, sellers should expect a minor loss on their gift card sales.
Two of the top gift card resellers include CardCash and GiftCash:
CardCash – Depending on current demand, sellers may earn up to 92 percent on their physical gift cards. Once accepted, payments are made via paper check, direct deposit, or PayPal within 1-2 days of approval. The website features a tool where users can receive a quote to determine the value of their gift card prior to signing up. You may have to mail the physical gift card to the company if approved.
GiftCash – You'll receive around 75 percent of the card's value, and they seem to accept physical cards only. However, users must own or purchase a card reader (they offer a $15 rebate) to swipe the gift cards for faster payouts. Cards must have a minimum value of $25. Payments are made within 10-15 business days via direct deposit or BTC, BCH, ETH, or USDT.
Keep in mind that these gift card reseller websites often change which brands they're willing to accept depending on stock and demand. If they have too much gift card stock from a particular merchant, they may stop accepting gift cards from that brand for a while.
Additionally, the higher the demand, the higher the cash back offer. You'll notice fluctuations in monetary offers based on supply and demand.
Also, you should always be on the lookout for gift card reseller scams.
Selling Gift Cards on Reddit
Reddit is a social discussion platform that features "subreddits," where users can exchange information about a particular topic. The website has two popular subreddits where Redditors trade or sell gift cards in exchange for cash.
Those subreddits are r/GCTrading and r/giftcardexchange.
Moderators in these subreddits enforce the rules to prevent scammers from infiltrating the community to keep the place safe and allow users to sell gift cards securely.
Before participating in these communities and listing your gift card for sale, read the moderator rules and familiarize yourself with the group and how it operates. 
Some groups even require that you have a specific number of posts or comment karma before you can even post in the subreddit, as this determines a level of credibility. If you're not an active Reddit user, you should browse and interact on Reddit (not only within these gift card communities) to build your reputation.
When selling an Amazon gift card on Reddit, expect to receive between 80 to 90 percent of the gift card's value. Of course, you can negotiate with potential buyers via the website. After securing a deal, the two of you agree on payment terms and take it from there.
Purchase and Resell Items
Amazon carries almost every item imaginable, including:
Clothes
Books
Electronics
Home Goods
Pet Supplies
Hardware
Appliances
Furniture
Because of this, you could easily use the gift card to purchase in-demand items and sell them on social media marketplaces, yard sales, or in flea markets to earn quick cash.
Some items that sell quickly and are always in demand include:
Baby Products (i.e., diapers, wipes, formula, clothes, etc.)
Cleaning Supplies (i.e., laundry detergent, fabric softener, air freshener, etc.)
Home Decor (i.e., throw blankets, pillows, wall art, etc.)
Kitchen Items (i.e., cutting boards, gadgets, timers, wine racks, etc.)
Toys (i.e., board games, crafts, figurines, dolls, etc.)
Holiday-related items also tend to sell quickly when in-season. For example, if it's November, you might have luck selling Christmas decorations, such as lights, stockings, wreaths, ornaments, and outdoor decorations to get some quick money in your pocket.
Buy Household Necessities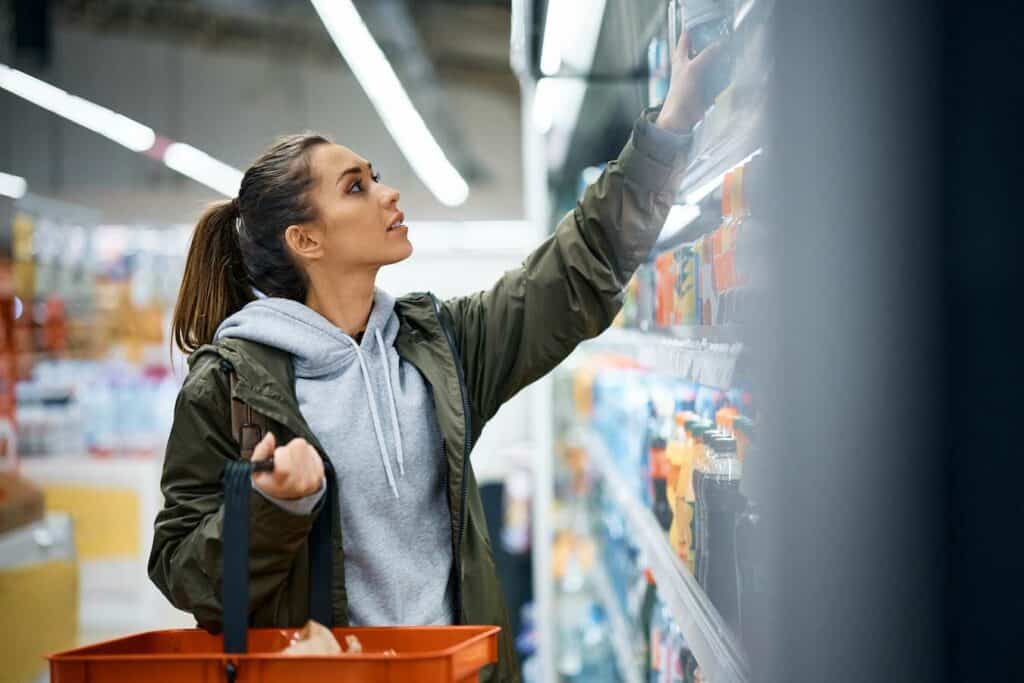 As mentioned earlier, Amazon isn't a website for random items; you can find almost anything you need, including groceries and other household goods. What's even better is that Amazon offers same-day or next-day delivery right to your door.
If you usually spend cash on grocery or household necessities, you can set the cash aside and instead use your Amazon gift card to grab these items online. That way, you'll have the money on hand (or in your bank account) while putting the gift card to use. It's a win-win!
Some items you might consider purchasing include:
Drinks (i.e., soda, coffee, tea, powdered drink mixes, energy drinks, etc.)
Non-perishable foods (i.e., boxed pastas, jarred sauces, canned goods, cereal, oatmeal, beans, rice, etc.)
Hygiene products (i.e., toilet tissue, soap, shampoo, toothpaste, toothbrushes, tampons, sanitary napkins, hand sanitizer, deodorant, etc.)
Drinks (i.e., soda, coffee, tea, powdered drink mixes, energy drinks, etc.)
Cleaning supplies (i.e., laundry detergent, bleach, trash bags, all-purpose cleaner, sponges, scouring pads, etc.)
Pet products (i.e., toys, food, treats, bowls, etc.)
Depending on the value of your Amazon gift card, you may even be able to stock up on some items to save even more money in the long run! This is especially true when Amazon runs deals on certain items. Also, don't forget to check out the Amazon Coupons page for even more savings.
Selling an Amazon Gift Card: Is It Worth It?
Considering that there are so many items available for purchase on Amazon, you might wonder whether it's worth it to sell the gift card.
Here are some pros and cons to consider before making a decision:
Pros
You'll receive cash in exchange for the gift card.
You aren't limited to where you can use the money.
You can actually use the cash on items you need or want.
Cons
You may end up with less money than the value of the gift card.
Gift card reseller websites sometimes take a while to transfer payments.
You're not guaranteed to make a sale when purchasing items on Amazon to sell.
Overall, if you have no use for the Amazon gift card and never intend to spend it on the website, then it's absolutely worth it to sell it on a reseller website or use it to purchase products to sell, even at a minor loss. The major downside is that there's no guarantee that you'll make a sale. 
Securing a Buyer Before Making a Purchase
However, if you do your research on trending items by visiting the Amazon Best Sellers or Top Selling Products pages. By knowing what's selling, you're more likely to make sales once you list the items you purchase.
Also, make it a point to secure buyers before making the purchases on Amazon. That way, you don't end up with a supply of random products.
For example, let's say that you have a friend who's looking to purchase a new laptop. You find the same laptop on Amazon, so you tell them that you'll purchase the laptop for them on Amazon and they can pay you in cash at a minor discount. It's a great selling point, it secures a buyer, and it nearly guarantees cash in hand.