What Stores Sell Amazon Gift Cards? A Complete Guide!
Disclosure: This post may contain affiliate links. I may get a commission if you decide to purchase through my links, at no additional cost to you.
Amazon gift cards are some of the most sought-after gift cards today because they are redeemable for millions of eligible goods on the Amazon store. They also have the edge over other gift cards because gift cards issued after October of 2017 don't expire.
Amazon gift cards can be bought on Amazon.com or at Acme Fresh, Apple (Campus stores), CVS Pharmacy, Dollar General, Gamestop, JCPenny, Kohl's, and more. The Amazon page has an exhaustive directory of stores where you can buy Amazon gift cards.
The rest of this article will serve as your guide on where to find your Amazon gift cards. If this is something you are interested in, keep reading until the end of the article for more helpful information on this topic. 
How Buying an Amazon Gift Card Works?
Amazon gift cards can be bought online. You can head over to their gift card page to select the gift card or enter the denomination you want. You'll have to provide the recipient's email address before checking out, then select your preferred payment method. 
While buying online is usually the preferred way to purchase gift cards for family, friends, or coworkers because it is easy and convenient, some people prefer to buy gift cards for personal use from stores. 
They may opt to do this if they want to use a cash budget for the Amazon store to limit spending and credit card deductions. Luckily, Amazon gift cards can be bought at participating retail stores all over the USA. 
Amazon gift cards come in different denominations. They are $15, $25, $50, and $100. It is the perfect cash equivalent. You truly get your money's worth because the card's value is exactly what you paid for in cash, without any activation, transaction, or maintenance fees.
At some selected stores that Amazon doesn't specify on its website, you can choose a "variable denomination card," which lets your pre-load the gift card with a minimum of $25 and a maximum of $500. 
Stores That Sell Amazon Gift Cards
There are over 450 merchants that sell Amazon gift cards spread out across the United States. Chances are there is one near you. You can find them in grocery stores, convenience stores, and even drugstores. You don't have to bother checking for the validity dates of gift cards on stock at any of these merchants because Amazon gift cards don't expire. 
Here is a list of stores that sell Amazon gift cards:
7-Eleven
A&A Market
AAA Club Alliance
Balducci's
BreadBox
Next Door Store
Office Depot
One Stop
Pavillons
P.C. Richard & Son
Publix
Quality Market
QuickChek
RadioShack
Rite Aid
Royal Farms
Safeway
Sears
Staples
Sunoco
Corner Market
CVS Pharmacy
Dash In
Dollar General
EZ Mart
Fairway Market
Family Dollar
Food City
Foodtown
GameStop
Hallmark Gold Crown (participating locations)
Harmons
Harris Teeter
Hy-Vee
JCPenney
Key Foods
Kmart
Kohl's
Kroger
LIDL
Lowes
Martin's
Midway Market
Thortons
Three Forks Market
USPS
Village Market
Walgreens
Wawa
Wegmans
Whole Foods Market
Winn Dixie
Convenience Stores That Sell Amazon Gift Cards
What could be more fitting than selling convenient gift cards at a convenience store? So the next time you're at a convenience store for some gum or tissue, you might want to make it worth the trip by getting yourself an Amazon gift card.
Here is a list of convenience stores to get your Amazon gift cards:
Worsley
Village Pantry
Wawa
United
United Dairy Farmers
Valero
Speedway
Holiday Station Stores
Core-Mark 
Weigel's
Shipley stores
Thorntons
Quiktrip
Flash foods
Family Express
Cumberland Farms
Country Fair
Fasmart
Grocery Stores That Sell Amazon Gift Card
There are over 63,000 grocery stores all over the United States. And you'll be happy to know quite a big number of them–in fact, most of them–sell Amazon gift cards. That means that you can easily pick up an Amazon gift card next time you go on a grocery run!
Here are some grocery stores that may sell Amazon gift cards:
A & P
Super
King Kullen
Giant Eagle
Kroger
Lowes Foods
Laurel Grocery
Food Circus Supermarket
Harris Teeter
The pantry
Tops Super
Alex Lee
Sweetbay
C and K Markets
Cox Foodarama
A hold
Associated Food Stores
Big Y 
Drugstores That Sell Amazon Gift Cards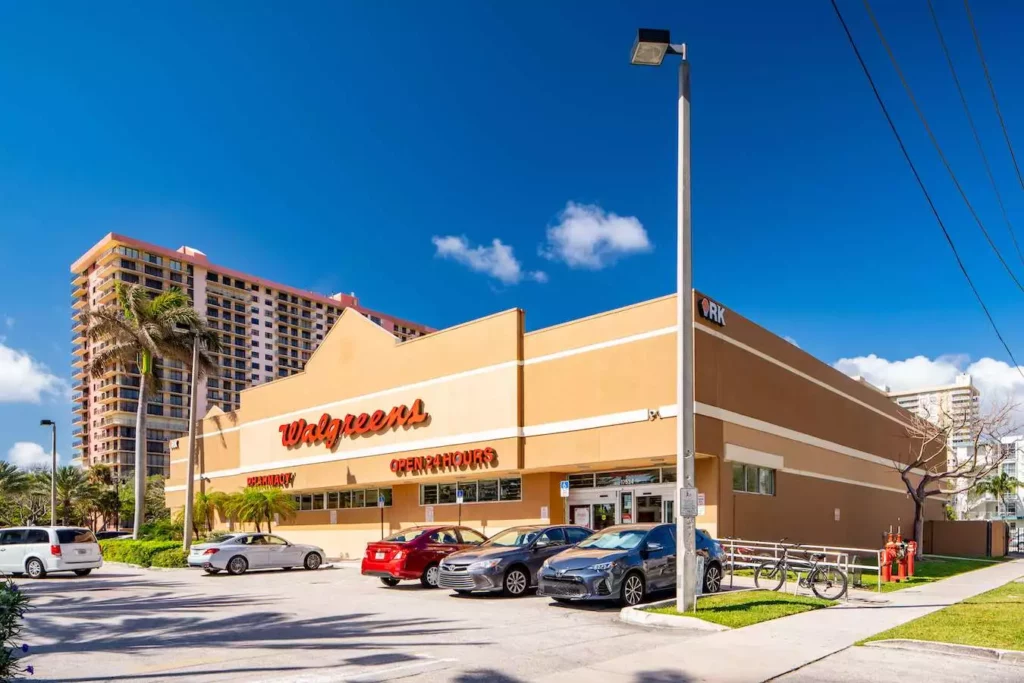 Who would have thought that drugstores would have Amazon gift cards for sale? But quite a few drugstores actually carry the gift cards. However, not all branches might have gift cards on sale. Some drugstores have a convenience store along with a pharmacy. These are usually the ones that sell gift cards. 
Here are the drugstores selling Amazon gift cards:
CVS pharmacy
Walgreens
Discount Drug Mart
Duane Reade
Rite Aid
Kinney Drug
Retail Stores That Sell Amazon Gift Cards
Several retail stores sell Amazon gift cards. If you have one or the other in your area, picking up an Amazon gift card should be a breeze. Here are some participating retail stores that sell Amazon gift cards:
MFA
Shopko
Master Brokers
Office Max
Dollar General
Coinstar
Staples
CTW Prepaid
Future Com
Lowe's
Nebraska Furniture Mart
Avoiding Gift Card Scams
Gift card scams are more common than you think. For this reason, buying them directly from a participating gift card store is the most scam-safe option. Some counterfeits look so convincingly real that you wouldn't know it was a fake until you try entering a non-existent claim code in your Amazon account. 
To protect yourself against these scams, always buy your Amazon gift cards from verified stores. Of course, you cannot be expected to know the full directory of participating retail stores off the top of your head, but a quick Google search should help you outsmart any scammer. 
Gift card kiosks are hard to vet because unless they are verified affiliates of Amazon, there is a risk that you will get a counterfeit gift card. A gift card kiosk would have to either be illegally reselling Amazon gift cards or selling counterfeits.
Be wary of unverified stores that sell Amazon gift cards. As stated in their terms and conditions, unauthorized reselling of Amazon gift cards is in violation of theirGift Card Restrictions and Prohibited Activities policy.
You should never complete a purchase if you are asked to pay an amount higher than the card's value. If you ever find yourself in a situation where you believe deceptive practices are being used to sell you an Amazon gift card, report this to the Federal Trade Commission. 
For the exhaustive, alphabetical directory of participating retail stores, head over to the Amazon website to get it straight from the most reliable source on this topic. 
Why Target, Walmart, and Other Retail Stores Don't Sell Amazon Gift Cards?
Amazon is the world's leading retailer. And having a massive online store only helped it come out of the pandemic with profits while other companies incurred massive losses. In comparison, Walmart is the second-largest retailer in the world. So, it's not surprising that Walmart would refuse to sell the gift cards of their biggest competitors. 
Amazon's biggest rivals are Walmart, Target, Best Buy, and Costo. For this reason, Amazon gift cards would never be sold at any of their stores. It's interesting, though, that Amazon gift cards are found in different stores that compete with each other.