Why Is Amazon Gift Card Locked? [Here's What to Know!]
Disclosure: This post may contain affiliate links. I may get a commission if you decide to purchase through my links, at no additional cost to you.
It can be frustrating to purchase an Amazon gift card for a friend or family member only to find out that you can't access the funds. Can the person you gifted the card with still redeem the gift card and go shopping online?
An Amazon gift card is usually locked if the bearer tries to redeem it on a website different from where they purchased the card. You may have applied the claim code to an erroneous account—or the products you attempted to purchase were ineligible. Finally, you may have exceeded the card balance. 
For the rest of this post, I'll talk about other reasons why an Amazon gift card might not work. I'll also provide you with other gift card options and helpful reminders when sending gift cards.
Possible Reasons Why Your Amazon Gift Card Isn't Working
Gift cards make good presents, but technical issues sometimes pop up while you're redeeming them. If you've purchased an Amazon gift card that doesn't seem to work, here are a few possible reasons:
1. You Purchased the Card From Another Country's Amazon Portal
Amazon is based in different countries and its portals are not interchangeable. You cant use a card bought on a French website on the American Amazon. So bear this in mind if you plan to send a gift card to someone from another country. 
2. You Have Already Used the Amazon Gift Card 
You may only redeem and use your Amazon gift card once. If your giftee is trying to use a card already applied to their account, they'll see a message saying someone has already redeemed the gift card.
Ask them to check whether they have used this card before. Each card has a unique claim code that the giftee can only apply once. 
3. You Applied the Claim Code to a Different Account
If you use a shared computer, another possibility is that you've applied the gift card claim code to the wrong account. Once a person enters a gift card claim code on Amazon's website, they will credit the amount to the account logged in at the time.
Keep in mind that you cannot transfer gift card balances between accounts.
4. You Purchased the Amazon Card From an Unauthorized Third Party
If you've ever had trouble using an Amazon gift card, there's a good chance you bought it from an unauthorized third party. You may only accept an Amazon gift through their website and participating stores.
Also Read – Amazon Gift Card Pending – Balance On Hold! [Why & What to Do!]
If you purchased your card from an unauthorized retailer or from a person who bought it somewhere else, the card might not work.
5. The Order Contains Certain Ineligible Goods and Services
Are you trying to purchase ineligible goods and services using a gift card? If so, the transaction will likely not go through. Amazon doesn't allow people to use gift cards for orders made with the intent of reselling or exporting. Collectible coins and other gift cards may not be purchased using a gift card.
6. You Provided No Additional Payment Information 
For a purchase to go through, you may need to provide additional payment information, such as a credit or debit card number. Check whether the order total does not exceed the gift card balance. 
Usually, a gift card alone is fine as long as you don't exceed your gift card balance, but once this happens, you need additional payment information to cover the rest of the bill.
How To Prevent Amazon Gift Card Issues?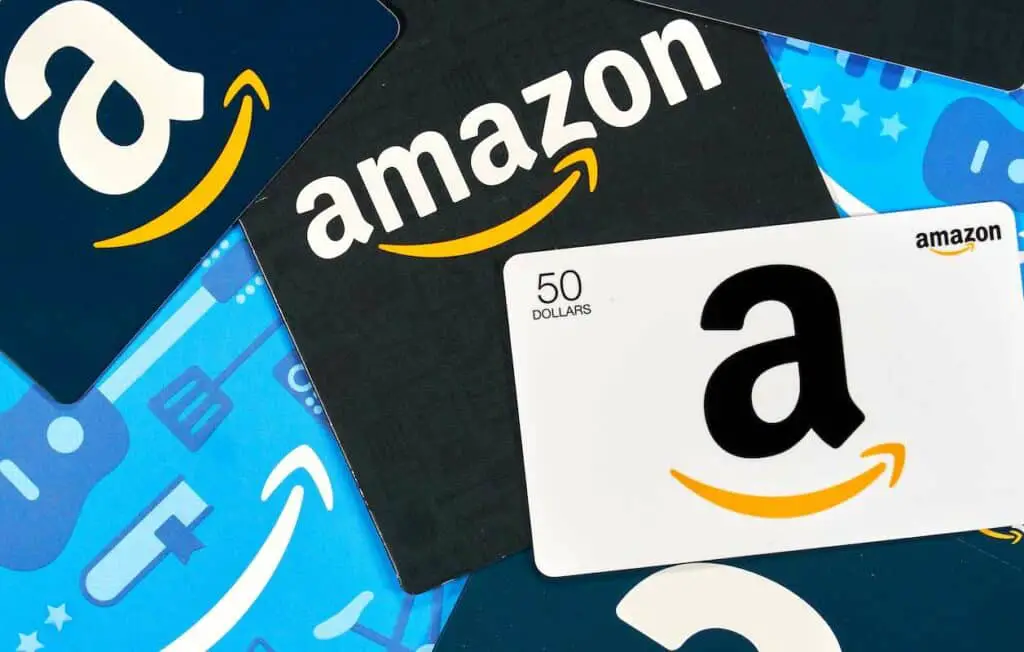 Giving gift cards can be a great way to show someone how much you care, but they can also cause problems or misunderstandings if not handled or used correctly. No one wants to send or receive a locked gift card that the recipient can't redeem.
Here are some tips on how to avoid common issues with gift cards:
1. Store Your Cards in a Secure Location
Don't leave gift cards in places where anyone can quickly get their hands on them. Doing so can allow someone to use your gift card and redeem your credit. Secure your cards in a safe place like your purse or personal drawer. 
2. Make Sure Recipients Know How To Use the Card
If you're sending a gift card, don't hesitate to include instructions with the card so that recipients know what to do when it arrives. Some recipients may not realize they must redeem the card before using it. Your giftee can prevent any surprises or difficulties when trying to use it to check out later on.
3. Purchase Only From Trusted Sources
When buying gift cards, be sure to purchase only from trusted sources. Only accept gift cards from reputable retailers like Amazon and Walmart. These companies have a good reputation for being reliable and will not sell fake or stolen cards.
Additionally, check the card's validity date before buying. Make sure that the card has not expired and is still valid.
4. Choose an Appropriate Card
Make sure the card has enough funds to cover what your recipient may want to buy. There are a variety of cards available on Amazon, so it is essential to choose one that is valid and has the correct amount of funds on it. You may also select cards based on your recipient's interests.
If there are any issues with your gift card, don't hesitate to contact Amazon as soon as possible so that their customer service team can resolve them as quickly as possible. By following these simple tips, you'll be able to avoid any potential problems with your gift cards and have a happy online shopping experience!
Helpful Reminders When Sending Amazon Gift Cards
Are you still in the process of purchasing and sending someone a gift card? I have a few reminders to help ensure that your recipient enjoys their present. When choosing and sending a gift card, keep in mind the following.
Choose an Appropriate Gift Card Value
A common mistake people make when sending gift cards is choosing the wrong gift card value. Consider the occasion your giftee is celebrating, and try to select a card that matches or exceeds the value of your present.
A $20 gift card is appropriate for casual acquaintances, but you may want to choose a higher value for close friends or big occasions.
Be Sure To Gather Your Recipient's Information
When purchasing a gift card, you may need to have your recipient's name, address, and phone number so they can claim the card without fuss and start using it as soon as possible.
Don't forget to include special instructions or notes about claiming the gift card, especially if your recipient isn't tech-savvy.
Choose the Right Specialty Card Type
There are many specialty cards on Amazon, and you can choose one that fits well with the recipient's interests and personality.
Consider what the recipient might want to purchase with their gift card. If you are unsure, ask them! If you know someone who loves Apple products, an Apple Gift Card might be perfect!
Personalize Your Gift Card
A personalized gift card makes sure that no matter what somebody chooses at the store, they will love the gift card. Add a picture or special message to make the recipient feel extra special.
Specialty gift cards are also a great way to show how well you know someone. They can use the specialty gift card at their favorite store, and with a personalized message or picture, they will feel extra special.
Send Your Amazon Gift Card on Time
You can send gift cards from Amazon immediately or in advance so that you may ship them out immediately after purchase. If you need to send the card overnight, make sure to include extra packaging and instructions for how to claim the gift card once it arrives.