Amazon Gift Card Code Scratched Off? Here's What to Do!
Disclosure: This post may contain affiliate links. I may get a commission if you decide to purchase through my links, at no additional cost to you.
You must redeem your Amazon gift card before using it to shop on Amazon. However, the redemption is only valid after entering the 14-digit claim code. What should you do if the code is scratched off and the digits are invisible?
If your Amazon gift card code is scratched off, you should contact the Amazon customer support team for help. You'll be required to provide the card's serial number, order number, purchaser's, and recipient's names.
In the rest of this article, I'll discuss how to contact Amazon's customer support to get assistance if your gift card code is scratched off. I'll also discuss the different Amazon gift card redemption issues and how to address them. Stay tuned to get informed!
How To Contact Amazon's Customer Support?
It's possible to rip off your claim code on an Amazon gift card. In such a situation, you'll not be able to use the card for shopping. Thus, the only solution is to reach out to Amazon customer support and request the claim code.
Here is the procedure for contacting the Amazon support team:
Log in to your Amazon account.
Head over to the Amazon Help Center.
Select "Start Chatting." Alternatively, you can use the "Call Me" option if you don't like chatting. You'll schedule a call, and the representatives will get back to you.
If you opt to chat, initiate the chat in the chat window that pops up.
Highlight your issue as clearly as possible. You should let the team know you're contacting them for a scratched claim code.
Follow the prompts and select the option that matches what you want.
It's worth noting that the Amazon customer support team will need some information from you before they can trace the claim code. It can be challenging to get your issue solved without the relevant details. Some of the things you should have when contacting them are:
The gift card's serial number
The order number
Purchaser's name
Recipient's name
The recipient's email address
Providing the above details will help the team look into their system for your gift card's claim code.
How To Prevent Scratching Off Your Amazon Gift Card's Code?
Scratching off your Amazon gift card's code can delay your shopping, especially if you don't have money in your Amazon account. In such a situation, you'll have to wait for the issue to be resolved by Amazon.
The appropriate way to avoid such frustrations is by taking the necessary precautions to prevent the claim code from being scratched off. Some of these precautions include:
Buy physical Amazon gift cards from authorized retailers. Some authorized retailers are Apple, A&A market, Amigos, Admiral, Alex Lee, and AAA Northway. You can find other select stores on Amazon.
If you're the one sending an eGift card, send it directly to the recipient's email instead of printing it.
Keep your gift card in a safe place where it can't be easily damaged. Avoid water and moist surfaces, as these can damage the silver coating.
Don't scrub the claim code with rough objects. Using knives or sharp nails can scratch off the claim code.
It's also safe to buy a gift card directly from Amazon's website.
Amazon Gift Card Redemption Issues
Apart from scratching off your card's claim code, you should know about other Amazon gift card redemption issues and how to resolve them. They include:
Invalid Amazon Gift Card
You can get an error message that your Amazon gift card is invalid. The reasons for an invalid gift card can be:
The gift card is already redeemed. You may have already redeemed the gift and forgotten.
The claim code you're entering is incorrect or inactive. There might be a typing error in the claim code. You should check to ensure you're inputting the correct digits.
The card was redeemed to another account. It's possible that the one who gifted you the card already redeemed it to their account. Alternatively, you may have redeemed it to another account if you have more than one Amazon account.
If you get such a message, check the following:
Ensure you're trying to redeem the correct Amazon gift card. You should scratch off the silver coating at the back of the card to reveal the claim code and enter it correctly.
If you're using a mobile device, check that your internet connection is working fine. A weak or unstable internet connection can result in an error while trying to redeem your gift card.
If you still have issues, you should contact Amazon customer support for assistance.
You're Acting Against Amazon Gift Card's Terms and Conditions
Amazon has terms and conditions for which you can use a gift card. You'll not be able to use your gift card if you go against these terms and conditions. For instance, you can only use your Amazon gift card balance to shop for eligible Amazon products.
If you find it challenging to shop using your Amazon gift card, the first thing should be to check whether the items in your cart are eligible. If not, consider alternatives like using your debit or credit card to shop.
You can always contact Amazon customer service for help if you still have issues after following the above tips.
How To Use an Amazon Gift Card?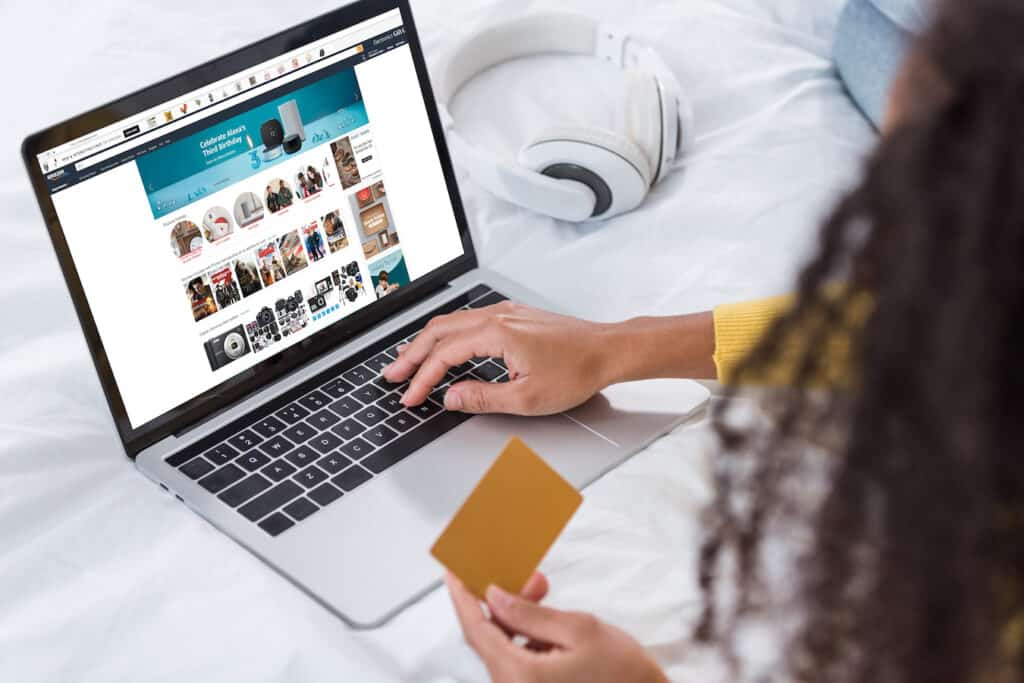 The first step to using an Amazon gift card is to redeem it into the gift card balance. The following procedure will help you redeem your Amazon gift card:
Log in to your Amazon account.
Hover over the "Hello" section for a drop-down menu. Alternatively, click on the triple-line area in the top left corner.
Scroll down and click "Payments."
Navigate past your payment methods to the "Amazon Gift Cards" section.
Select "Redeem a Gift Card."
Enter the gift card's claim code in the next window.
Check your Amazon gift card balance to ensure the gift card amount has been added.
After redeeming your gift card, you can use the balance to shop for different Amazon products. Other ways to use an Amazon gift card are:
Trade it for cash. You can trade the card for money if you don't want to use it to shop on Amazon. You can visit gift card exchange kiosks in some grocery stores or post the card on online gift card marketplaces.
Gift friends or family members. You can gift the card to your friends or family who love shopping on Amazon.
Donate it. You can donate the card's balance to charity if you don't need it.
Benefits of Amazon Gift Cards
Amazon gift cards have several benefits, which make them popular gifts and donation items:
They're convenient. Amazon gift cards are a convenient way to shop on Amazon. You don't have to worry about carrying cash or using a debit/credit card.
They're secure. Gift cards are a safe way to shop since you can only spend the balance on the card.
It's a suitable way to gift your friends and relatives. Sending an Amazon gift card eliminates cases of sending unwanted gifts. With the gift card, your loved ones can shop for their favorite gift on Amazon.
It's an excellent way of budgeting. An Amazon gift card can help you stick to your shopping budget. Once the balance on the card is exhausted, you'll have to stop shopping.
They're easy to get. You can purchase Amazon gift cards from various online and offline stores.