Amazon Gift Card Invalid? [Here's Why & What to Do!]
Disclosure: This post may contain affiliate links. I may get a commission if you decide to purchase through my links, at no additional cost to you.
It's common; you just fill your Amazon shopping cart with items knowing you'll pay with a recent gift card you received from a friend. And then you go to checkout, only to be shocked to discover your gift card is invalid. Not being able to shop on Amazon after receiving an Amazon gift card is frustrating.
Your Amazon gift card is invalid because the claim code has already been applied, there is a typing error, or an unreadable claim code. You might have applied the claim code to your account and forgotten, or the one who gifted it to you redeemed the card to their account before sending it.
In the rest of this article, I'll take you through different reasons your Amazon gift card is invalid and what you can do. I'll also discuss how to check your Amazon gift card balance so you can be on the safe side before shopping. Let's get started!
Reasons Your Amazon Gift Card Is Invalid
An Amazon gift card should respond to redemption by transferring the amount into your Amazon gift card balance. An invalid response when redeeming your Amazon gift may result from:
1. An Already Applied Claim Code
All physical Amazon gift cards have a 14-digit claim code at the back. If you have an eGift card, the code is found at the bottom of the email from Amazon confirming the gift card.
Amazon claim codes are a mixture of numbers and letters for unique identification and to make copying hard. You must enter this code when redeeming your Amazon gift card.
According to Amazon, one of the reasons you get an invalid response when redeeming the gift card is that the claim card has already been applied.
There are two possibilities for this error:
The one who gifted you the card had already applied it to their Amazon gift card balance, or
You applied the gift card to your account unknowingly or knowingly and forgot.
The best way around this error is to check your gift card balance to see whether the card's balance reflects. You can check your Amazon gift card balance on Amazon's website or using the App.
How to check your Amazon gift card balance on Amazon's website:
Launch the Amazon website on your browser.
Log in to your account.
Select "Accounts and Lists" at the top right corner.
Click on "Accounts."
Scroll down and click "Gift Cards."
Check for your gift card balance at the top part of the page.
How to check your Amazon gift card balance using Amazon's App:
Open the Amazon App on your phone.
Log in to your account by entering the necessary credentials.
Click "Profile."
Navigate to "Gift Cards."
Check your gift card balance on the resulting page that lists all the gift cards.
If your gift card balance doesn't indicate the current balance, proceed to Amazon's gift card terms and conditions to see whether your chosen products meet the guidelines.
2. Typing Error
"To err is human." We are only human and can make mistakes when keying in numbers or letters. A single-letter difference between the claim code you're using and the actual claim code can result in an invalid response when redeeming your Amazon gift card.
The best way around this is to check whether you made a mistake when keying in the claim code. Check the email or text message Amazon sent you when they processed your gift card. If it's a physical gift card, check the back of the card to ensure you're using the correct claim code.
Contact customer service for help if it's still not working.
3. Unreadable Claim Code
The other possibility is that the claim code is unreadable. The characters might be smudged such that Amazon can't read them when you're trying to redeem the gift card.
The solution here is to reach out to customer service for help in deciphering the claim code on your behalf.
In this case, you'll have to provide the following information:
Order number.
The gift card's serial number. This is a 16-digit number found on the back of a physical Amazon gift card or in the email sent to you for an eGift card.
Recipient's name.
Purchaser's name.
The recipient's email address.
Amazon will look into the issue and provide a readable claim code you can use to redeem your gift card and shop on Amazon.
4. You Redeemed the Gift Card to the Wrong Account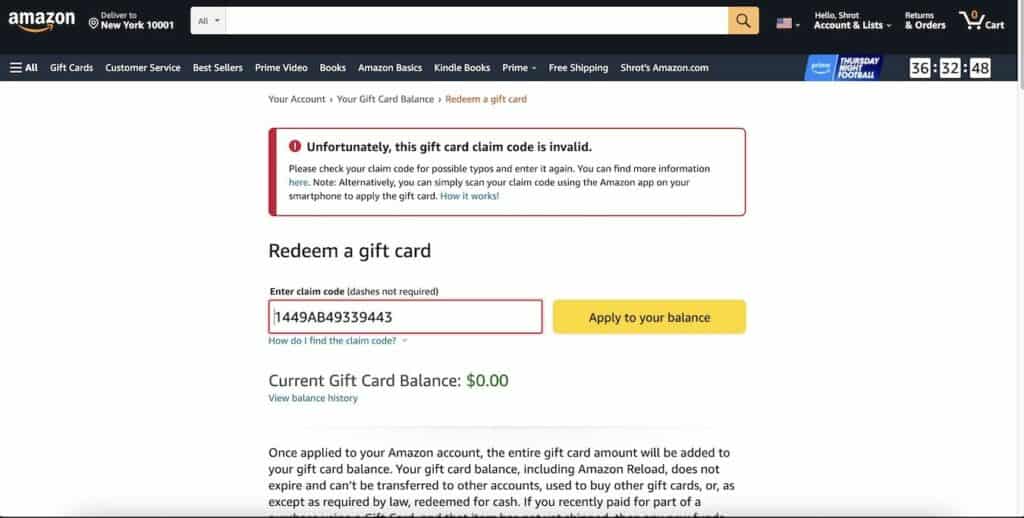 It's common to have several Amazon accounts. Perhaps you have one for personal use and another for business. It's also possible to redeem an Amazon gift card to the wrong account by mistake.
When redeeming an Amazon gift card, Amazon uses the account you used while logging in. Thus, the card may have been redeemed to the wrong account if you unwittingly used a different one to log in.
The solution is to check which account the gift card was redeemed to. You can do this by checking your order history. If you see no indication of a recent purchase, it means the gift card was redeemed to a different account.
In this case, you can un-redeem the gift card or use the account to which it was redeemed to make your purchases.
Tips for Using Amazon Gift Cards Correctly
Most errors when using an Amazon gift card results from poor usage. If you're not careful, such errors can make it impossible for you to use the gift card forever. Thus, you should use the following tips to ensure your Amazon gift card is safe:
Do not expose the claim code: The claim code is equivalent to cash, and you should take care not to disclose it to anyone. Keep it in a safe place where only you can access it. Other people can redeem your gift card if they access this code.
Do not delete the email or text message: The email or text message containing the gift card claim code is essential. Do not delete it until you're sure you won't need it again.
Do not lose the physical gift card: If you have a physical gift card, keep it in a safe place. Losing it is the same as losing cash, and retrieving it without a serial code can be challenging.
Do not use rough objects to scratch the card: You're supposed to scratch a physical gift card to reveal the claim code. However, using rough objects like a knife can damage the card, making the code unclear.
How To Avoid Amazon Gift Card Scams?
There are many online fraudsters waiting to prey on unsuspecting Amazon shoppers. They use different gift card tricks to steal from Amazon shoppers. Here are some ways to stay ahead of them:
Don't click on links in suspicious emails: You may receive a phishing email with links that direct you to a website where you're required to enter a claim code. Amazon will never send you an email to redeem your claim code. You do it when you feel like or want to shop on Amazon.
Do not buy Amazon gift cards from unofficial sources: Only purchase your card from the Amazon website or an authorized reseller. Do not buy them from third-party websites, as you can't be sure they're legitimate.
Check the claim code before redeeming: Before entering the code, ensure it's 14 digits long with no spaces in between.
Ensure you're on Amazon's official website: When redeeming your claim code, ensure you're on Amazon's official website. You can tell by checking the URL, which should be https://www.amazon.com/.