Can You Gift a Kindle Book That You Own? [Full Guide!]
Disclosure: This post may contain affiliate links. I may get a commission if you decide to purchase through my links, at no additional cost to you.
Amazon Kindle is a convenient option for book lovers to collect as many books as they want and only take up as much space as a tiny tablet. For those who want to share their love of reading, giving one of these titles as a gift may be an excellent option. But what about titles you already own?
You cannot gift a book from your Kindle library. However, you can give that exact title by purchasing it again with the gift option from your "Manage Your Content" screen or through the product's main page on Amazon. Alternatively, you can loan your eligible Kindle titles.
This article will explain how to gift the Kindle books you already own. It will also offer alternatives to giving specific titles, including sending a gift card or lending eligible titles. Read on for all the information you need about gifting a Kindle title you own.
How to Gift a Kindle Book You Own?
So, you've got a great Kindle book in your library and think your friend would enjoy reading it. You've already read it, don't need it anymore, and want to give it away. So, how can you give the book away? 
Unfortunately, you can't give your copy of the Kindle book you own to your friend. What you can do is gift them their own copy. There are two ways to give the gift of a Kindle book. Let's see explore them now.
Choose the Gift Option From the Manage Your Content Screen
An easy way to gift your favorite Kindle books that you own is through your "Manage Your Content & Devices" screen on your Amazon account. On this screen, you will find every Kindle book in your library. 
Scroll down until you find the desired title. Alternatively, there is a search function where you can enter the Kindle title's information to make locating it much quicker. To the right side, you will find a drop-down menu where you can select the option to give the book as a gift.
You will be transferred to the purchasing screen, where you must enter the recipient's email address and confirm your payment information. Alternatively, you can select the option to print a physical copy of a voucher that you can give to the recipient.
Because you will need to either scroll through your list of books or search for a title, this method is not the most efficient way to purchase the title as a gift. 
Gift From the Main Product Page
The fastest way to gift a book you own is by going back to the main product page on Amazon and selecting to give it as a gift. This will take you directly to the purchasing screen. 
Here you can choose to send the gift in two ways: as a physical voucher, they can redeem online to receive the book, or as a link sent to their email address. Choose the appropriate option based on what you'd prefer. 
If you're emailing the book to your friend, you'll be prompted to enter their email address. You won't have to print anything out, and you can ensure that the gift reaches them exactly on their birthday by entering the correct date when prompted. 
As you can see, this skips the extra steps of navigating to your content screen and locating the title before gifting.
Alternative Options for Gifting Kindle Books
There can be several reasons why the two previously discussed options aren't suitable for you. To make things easier, Amazon offers alternatives so your friends and family can still enjoy the titles you want to share.
Give an Amazon Gift Card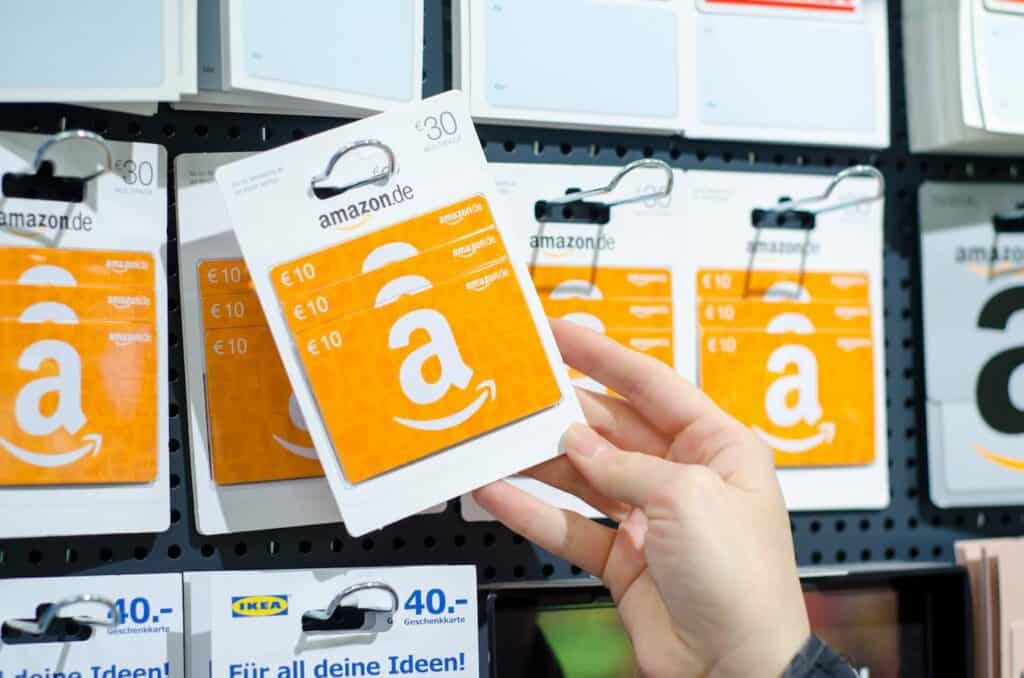 You can always give the gift of an Amazon gift card so that your friend or family member can purchase the Kindle title you want to give them or whatever title they may prefer. 
This is adding an extra step to the process, so you may want to consider this option for special occasions where you add a little extra for a few more books, such as a birthday or holiday gift.
With this method, they will have a permanent copy of the Kindle title that they can read at their convenience. 
Loan a Title
Many Kindle titles are eligible for lending. There are two ways to do this: one-on-one sharing, where you send to one individual, and family sharing, where you allow the members of your family access to your library. 
When you send a title to another person, the lending period is 14 days, after which the title will be returned to your library. The downside to this process is that not all Kindle titles are eligible for sharing. If the title you want to loan is one of these, try family sharing.
The members of your Amazon household are the users you will be able to share with under the family sharing option. This means if the person you want to loan the title to is not in this group, you will not be able to lend them the title. 
Loaning a Kindle book isn't the most convenient way to share the title, as you can see, but it is good enough if your friends and family are fast readers and don't want to own their own copy. 
Benefits of Gifting Kindle Books
Many people enjoy receiving the gift of a Kindle book for various reasons. They also offer you, as the gift giver, many convenient options. Whether it's to give the title you want your friend to read or just share your love of books, you'll find the process beneficial in many ways.
1. You Can Save a Lot of Money
With daily and monthly Kindle deals, there's the opportunity to save money on the title you want to gift to your friend or family member. While you may have paid full price for the book, you may get it for next to nothing during one of these promotions.
2. You Don't Have To Go Shopping
There's no inconvenience when it comes to shopping for a Kindle book. You can do it from wherever you have internet service. This saves you from going to the mall or fighting crowds while shopping for the perfect gift.
You can even browse for books from the convenience of your living room couch.
3. Kindle Books Are Easily Exchanged
If you purchase a Kindle book for someone they already own or do not enjoy, they can easily exchange it. and they don't even have to leave the house to do it.
The recipient of the Kindle book gift can trade it in for a gift card of the same value. With this gift card, they can purchase whatever they would prefer, including another book. 
4. Kindle Books Are Often More Affordable
If you're looking for budget-friendly options when purchasing gifts, Kindle books are cheaper since the cost of printing and materials doesn't exist, unlike printed books. This will allow you to buy more books for your friends and family or be financially savvy and save money.
5. Some Books Only Come in Kindle Format
When shopping on Amazon, you may find that there are a lot of books that only exist online as digital books, and printed copies are simply not available.
You can find some interesting reads that your friends and family will enjoy that you cannot find in any other form, so you might as well gift them their own digital copy of the book.