How To Send An Amazon Gift Card Via Email? Full Guide!
Disclosure: This post may contain affiliate links. I may get a commission if you decide to purchase through my links, at no additional cost to you.
With technology advancing, making your loved ones feel special on their occasions has become more manageable even when they may be miles away. One way to express your appreciation and be part of their special day is by sending them an Amazon gift card via email. It's cheap, convenient, and instantaneous; you just need to know how to go about it.
To send an Amazon gift card via email, open and select the gift card of your choice from the Amazon gift card webpage. Next, fill in the required information in the detail section, select the email delivery option and navigate to the payment page to finalize your purchase.
The rest of this post will provide thorough instructions on sending an amazon gift card via email and other methods to send an Amazon gift card. Let's tackle sending gift cards via email first.
1. Choose your Gift Card
The first step is to choose the gift card you'd like to send. To do that, go to Amazon.com and search for gift cards. Browse through the search results, paying attention to the designs and customization options available for each card.
Once you find a card you like, check that it has the "email delivery" option. You can't send an Amazon gift card via email if this option isn't available. 
2. Fill in the Required Details and Choose Email Delivery
Fill in the "Enter Your Gift Card Details" section. Depending on your selected design, you can customize the card and add a personalized message. You can also enter a custom amount if you do not see your desired gifting amount. 
Reminder: When completing this section, be sure to double-check the email address entered for the recipient to ensure there are no errors. 
3. Click on the "Buy Now" Option 
Once you have entered the required information, hover your cursor to the right side of the screen and click on the "buy now" option for a quick purchase. If you are planning on purchasing more than one item or gift card, click the "add to cart" option instead. Repeat the process for any other gift cards you want to purchase. 
4. Enter Your Payment Details To Finalize the Purchase
Once you're done shopping, proceed to the payment page and add accurate payment information and billing details to complete the purchase. After that, all that's left is to track your order.
Speaking of order tracking, it's worth mentioning that Amazon gives you the option of scheduling a gift card to be delivered on a later date. However, there's a one-year limit on how far ahead you can schedule.
Other Ways To Send an Amazon Gift Card
Email isn't the only way to send an amazon gift card. There are alternatives, such as:
A Greeting Card
A greeting card is a great way to gift friends and family who treasure old-school cards. If you opt for this gifting option, Amazon will send a physical gift card to your recipient inside an envelope with a greeting card. 
The retail giant offers various different designs depending on the gifting occasion. You can further customize your design selection by adding a sweet personal note as a final touch.
A Gift Box
This is the way to go if you want to go the extra mile for your loved one, as it allows you to send your gift card in unique gift box packages.
Similar to the other options above, various designs are available to suit all occasions. These make for great gifts during the holidays, especially Christmas.  
A Text Message 
This can be a lifesaver when you're running late on buying a present or have forgotten a special occasion until the last minute. It only takes a few clicks to send a gift card this way.
To send an Amazon gift card via text message:
Go to the gift card purchase page.
Customize your card design using a photo, video, or animation.
Enter the amount of money you want to spend on the gift card.
From the delivery options, select text message, fill in the other details, and proceed to checkout.
The amazon gift card will be sent via text message to the recipient, where they can quickly redeem it.
Pros and Cons of Amazon Gift Cards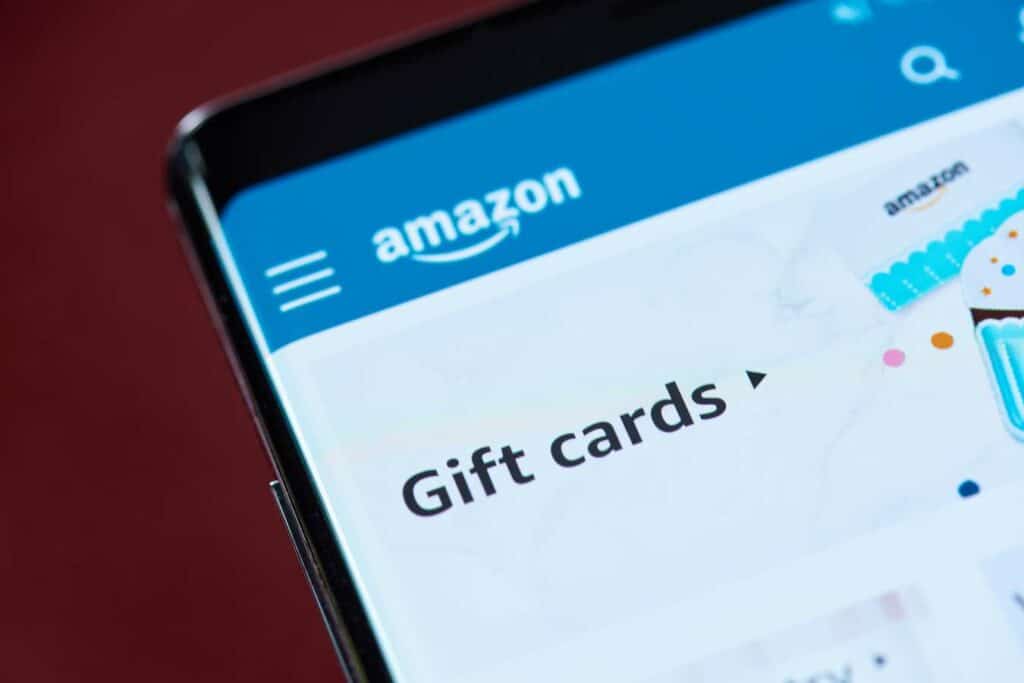 Like all purchases, there are some pros and cons to Amazon gift cards.  Let's review these to help you decide if this way of gifting suits you. 
Pros of Gifting an Amazon Gift Card
It allows the recipient to choose a gift for themselves, so you don't have to deal with the pressure of wondering whether they like your gift. 
It is an excellent form of a gift when you do not know the recipient on a personal level to get them something meaningful. For example, when you are someone's secret Santa at work.
They are simple and convenient to gift and receive. 
They do not expire. 
Amazon gift cards have a huge variety of items that can be purchased with them.
The recipient can use the gift card partially over multiple purchases. 
Cons of Gifting an Amazon Gift Card
Amazon gift cards cannot be changed for cash or credit.
The recipient cannot transfer the card or its funds.
How Do You Know an Amazon Gift Card Has Been Received?
You'll be notified via email or text message when your Amazon gift card has been received. You can also check whether a gift card has been received by clicking on "Your Orders" on the Amazon webpage. 
Do Amazon Gift Cards Have a Fee?
Amazon gift cards do not have any fees attached to sending or receiving. The only amount paid is for the credit loaded onto the card. However, shipping charges may apply if you send a physical gift card with a greeting card or gift box.
Can You Cancel an Amazon Gift Card?
You can cancel an Amazon gift card if it has not yet been shipped. To check whether the order has been shipped, go to the "My Orders" page on Amazon, find your gift card order, and review the delivery status. 
For more details, check out my detailed article – "Can Amazon Gift Card be Returned?"
How To Cancel an Amazon Gift Card
There are two ways to cancel an Amazon gift card:
Cancelling Online 
Go to the "My Orders" page on your Amazon account webpage. 
Find your gift card order.
If it has not yet been shipped, there will be an option on the page to cancel the order. 
Canceling via Chat 
Log in to your Amazon account. 
Scroll down to the bottom of the webpage.
Click on the "Help" button.
Select "Orders And Deliveries."
You will be given the option to chat with a representative to help you cancel your gift card order. 
If none of the above methods work, you can cancel your gift card via Customer Service. Call 1-206-508-4051 to get in touch with a customer service representative.
How Can I Redeem an Amazon Gift Card?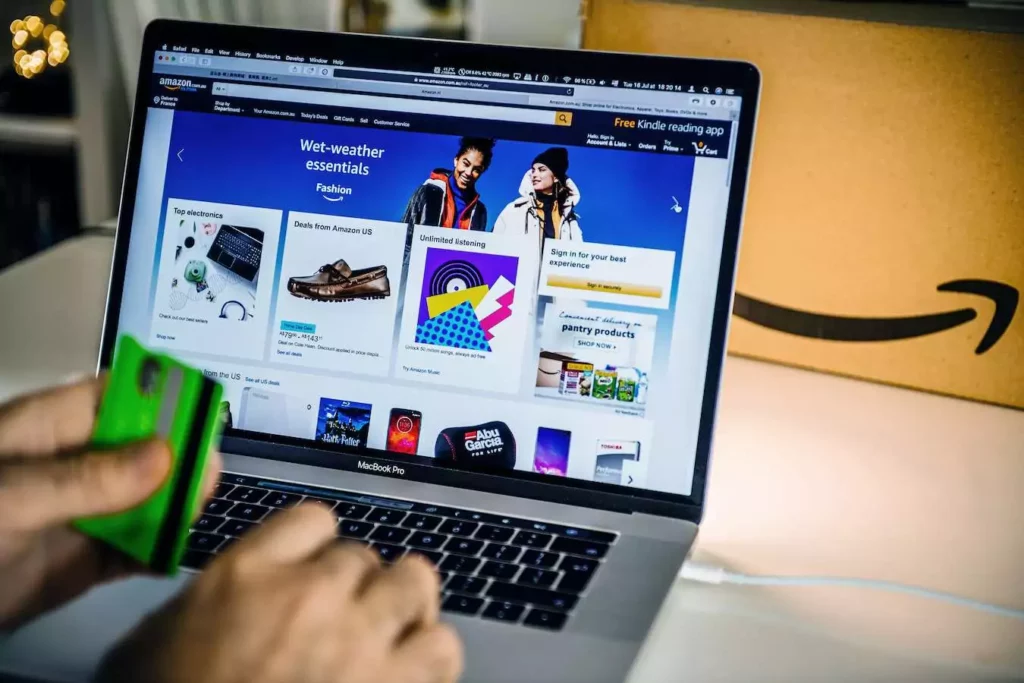 To redeem an Amazon gift card, go to the "Your Account" page on Amazon and find "Your Payments." Select the "Redeem Gift Card" option and enter your gift card number. The gift card will then be applied to your valid purchase. 
It should be noted that Amazon gift cards can only be redeemed on eligible products. For more on gift card redemption, check out this informative article. It covers how to redeem an Amazon gift card, whether they expire, and virtually everything you need to know about the subject. 
Items Worth Spending Your Amazon Gift Card On 
You are not alone if you have received an Amazon gift card and are unsure what to purchase due to the sheer variety of options. Check out this list of items at various price points worth your gift card!
If you want your home to always smell like a spa and be just as relaxing, check out this palm-sized essential oil diffuser. Although compact, this Innogear Essential Oil Diffuser comes with two mist settings, one for instant smell and one for a long-term slow burn.
This diffuser also has 8 color options varying from romantic mood lighting to brighter lights. Another key selling point is the auto shut-off for worry-free usage. 
Finding the perfect lighting to do your makeup is always a hit or miss, especially when traveling. This Deweisn Trifold Lighted Mirror is the perfect mirror for on the go or at home.
The mirror supports both batteries and a USB port for direct electric supply. It is fitted with 21 led lights and a 180-degree rotating base to allow for ease of use. 
With multiple devices being used simultaneously, lugging around multiple chargers during travel can become difficult to organize. Instead, purchase this Zubarr Foldable Wireless Charging Dock that supports simultaneous charging of the iPhone, Airpods, and Apple Watch.
The dock can also be used with some models of Samsung and Huawei phones. A great pro to the charging dock is that it is phone case friendly and foldable for storage.  
Spa days on birthdays are great, but sometimes you want to destress from the comfort of your home.
That's why the Viktor Jurgen Heated Massager is the perfect treat for you or a loved one. With two massage speeds and a heated neck option, this massager is worth the buy. It also supports bi-directional massage to mimic that of a masseuse.