Can You Use Amazon Gift Card for Audible? [Full Tutorial!]
Disclosure: This post may contain affiliate links. I may get a commission if you decide to purchase through my links, at no additional cost to you.
When you're thinking about buying a book lover a gift for their birthday, holiday, or just because, sometimes, it's just easier to send them an Amazon gift card. But if they enjoy audiobooks more than physical books, can they also use that gift card on Audible?
You cannot use Amazon gift cards to make Audible purchases on the Amazon or Audible site. You must use one of the major credit cards, an Amazon-branded credit card, a debit card, or an Audible gift card to make your purchases. You can also make gift purchases for another user using these methods.
The rest of this article will explain what forms of payment Audible accepts, including credit, debit, and gift cards. I will also cover the methods for gifting Audible books through your Amazon and Audible accounts and what to do if all you have for a payment method is your Amazon gift card. Keep reading to learn more!
Accepted Forms of Payment on Audible
When shopping for gifts, you want to know that the person receiving them can use them, whether a physical gift or a gift card. 
As I mentioned, you can't use Amazon gift cards on Audible or when making Audible purchases on Amazon, which may seem odd, given that Audible is part of Amazon. You'll have to find an alternative way to give an Audible book to your bibliophiles.
Let's start by exploring different payment methods Audible accepts to make things easier.
Which Credit and Debit Cards Can Be Used for Audible?
Despite being a subsidiary of Amazon, Audible does not allow the wide range of payment options that its parent company allows. To be precise, Audible authorizes payments from the four major credit card companies:
Visa
Mastercard
Discover
American Express
If you have an Amazon-branded credit card, such as the Amazon Prime Rewards Visa or the Amazon Store Card, that's also an accepted payment form. Debit cards are also approved, provided they are branded, such as by Visa. Both debit cards tied to your bank account and prepaid cards are allowed.
Suggested Read – How to Use Amazon Gift Cards for Kindle Books? [Complete Guide!]
You must also enter your credit card information directly into your account, as Audible does not accept third-party payments from services such as Paypal or ApplePay. The payment information will be shared between the two accounts if you have an Amazon account. Changing it on Audible will change it on Amazon.
Can Gift Cards Be Used on Audible?
At this time, there are no gift cards for Audible. Anyone wanting to purchase a book on Audible, whether for themselves or someone else, will have to use a different payment method. For gifting, which I will cover next, you must take specific steps that allow you to choose the title or purchase a membership for the recipient. 
What Are the Options for Gifting Audible Books?
If you have your heart set on giving the gift of an Audible book, it's still an option; you just have to do a little more work than buying a gift card. Both Amazon and Audible allow you to gift gift Audible memberships, which makes it easy if you don't have your Audible account set up. 
Giving a specific book may be more challenging as you'll have to know a rough idea of what the person wants to receive. On the other hand, you can choose to gift memberships from one to 12 months, in which they will receive one credit per month.
According to Audible, if they already have a membership, they will simply acquire the credits, giving them immediate access to all the credits from the gift membership. 
Steps To Gift Through Audible
You can gift a title through Audible without being a member. Still, you may want to consider signing up before hitting that purchase button. Because Amazon owns audible, you'll sign in with your Amazon login to access the site and be able to make purchases.
However, you will not receive the pricing benefits members get – some titles receive a significant discount.
Buying a Specific Title as a Gift Through Audible
If you are a member and just happen to have extra credits lying around, you can use one for purchasing your gift book. 
The process for buying a gift title on Audible is straightforward and offers two methods of delivery: email or printing a copy to hand-deliver. The ordering process can be done with the following easy steps:
Step 1 – Choose the Book That You Want to Gift
Make sure that you sign in to your Audible account first. Next, browse through the titles available on the site, and choose the audiobook you want to gift.
Open the audiobook purchase page, and click on the "More Options" button as shown in the image.
Step 2 – Choose the "Give as a Gift" Option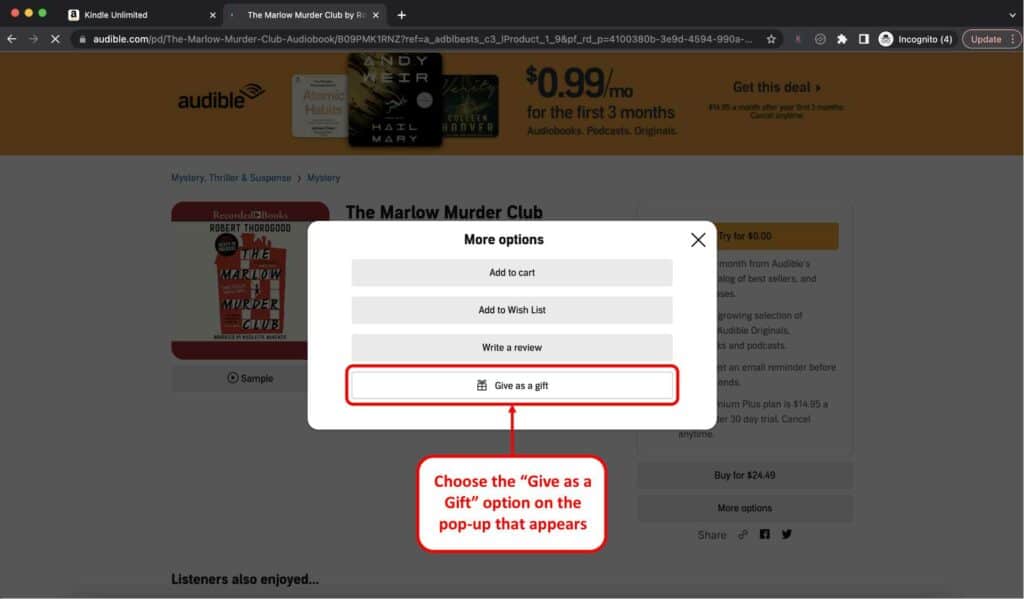 From the pop-up that appears, simply click on the "Give as a gift" option to send the book as a gift to your loved ones.
Step 3 – Fill Out the Details for Gifting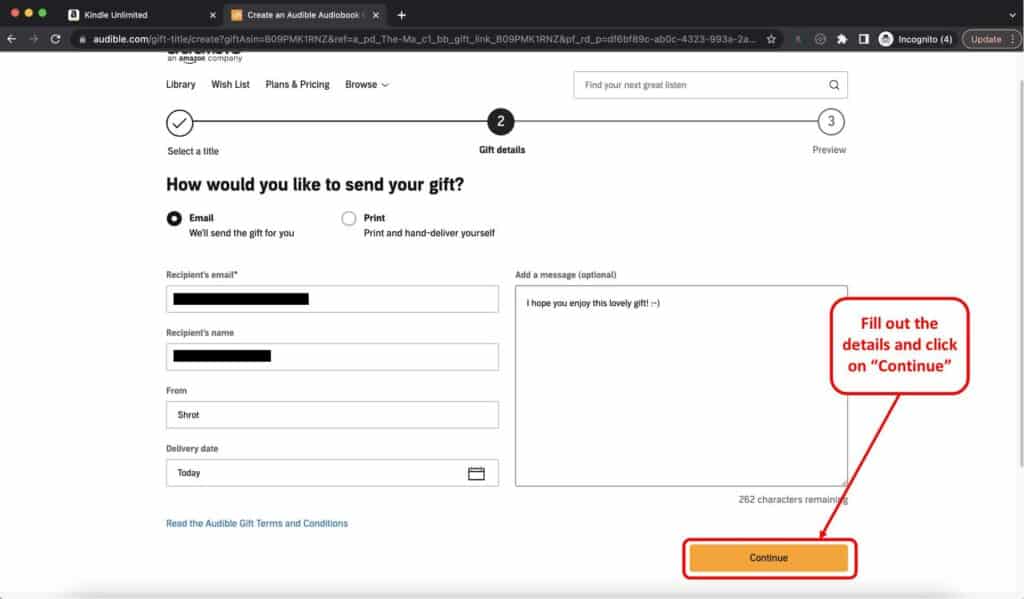 Here, all you need to do is fill in the details for sending the audiobook title as a gift. You can either choose to send the audiobook via email or print.
If you choose the email option, you will need to enter the email id of the recipient.
Once you've added all the details, simply click on the "Continue" button at the bottom of the page.
Step 4 – Process the Payment
The last step of the process is to preview the details and process the payment to complete the audiobook gifting process.
If by any chance, they already have the title you are gifting, they will not receive a duplicate title. Instead, they will receive a credit if you purchased it with a credit. They will receive a coupon for the book's value for purchases with a credit or debit card. 
Also Read – Do Amazon Gift Cards Expire? [Here's What You Should Know!]
Your gift recipient also does not have to be an Audible member. They will, however, have to download the Audible app to listen to the gifted book.
Buying a Gift Membership Through Audible
Gift memberships are available in one, three, six, and 12-month options. While I did mention that there is no actual gift card for Audible, a gift membership can be like one. If the person you buy the gift for already has an active membership, they'll receive all the credits at once instead of waiting each month. 
Purchasing a gift membership is very similar to buying a gift title. Follow these steps to complete your purchase:
Sign in to your Audible account and click on this link to open the Audible Membership Gifting Page.
Select which subscription option you'd like to gift.
Choose between emailing and printing the membership.
Fill in the recipient's information.
Fill in your information.
Add the date of delivery if you are sending an email.
Add an optional message for either delivery option.
Customize your order with a card.
Verify all the information.
Make your payment.
Steps To Gift Through Amazon
While it's possible to gift through Amazon, there are some stipulations. Despite being the parent company of Audible, you cannot gift specific audiobook titles. The Audible site and app reserve this function. 
However, you can still gift memberships. The options are the same as the standard benefits: one, three, six, and 12-month subscriptions. You'll follow the same steps outlined for gifting from Audible, except you must go to the Amazon page dedicated to Audible memberships. 
Alternatives to Audible Credits
There is a workaround if you're the recipient of an Amazon gift card and want an audiobook. Amazon recently changed its policies and now allows purchasing third-party gift cards with Amazon gift cards. What does this mean for you?
Suggested Read – Can You Use Amazon Gift Card for Prime Videos? [Here's What to Know!]
If you're not picky about where you get your audiobooks, both Google and Apple offer a wide variety of titles. However, you may find that the prices aren't on the same level as Audible credits.
Another downside to this method is that the books are not transferable between these options and Audible. You'll also have to download their audiobook software as it won't be compatible with your Audible app.