Can You Buy Amazon Gift Card in a Different Currency?
Disclosure: This post may contain affiliate links. I may get a commission if you decide to purchase through my links, at no additional cost to you.
Amazon offers a wealth of options for the curious customer. With so many products for sale, an Amazon gift card is an excellent gift for any loved one. However, is it possible to buy an Amazon gift card in a different currency for someone outside your country?
You can buy Amazon gift cards in any major currency. To do so, use the currency converter option at checkout. Additionally, you can buy Amazon gift cards internationally on select countries covered by Amazon. 
Whether traveling or sending a gift card overseas, having the correct currency is essential. In this article, I will cover how to buy an Amazon gift card in a different currency, Amazon's international currency standards, and their limitations on items purchased or delivered from other countries. 
Can You Buy an Amazon Gift Card in Another Currency?
You can select different currencies when making purchases on Amazon.com–including gift cards. The process uses a currency converter to calculate the appropriate cost of the item. 
Because individual currencies are subject to changes in supply and demand, there may be slight differences in the actual price of similar items during subsequent purchases. For example, a $50 gift card converted to pounds sterling would not always convert to the same amount. 
Additionally, if you purchase items internationally, Amazon automatically converts prices to your local currency, allowing you to always buy items without having to do the currency conversion yourself. 
While Amazon covers many major currencies, it doesn't include every possible currency. Further, to convert a currency, you need a credit or debit card denominated in an eligible currency, and you can't purchase subscriptions or digital products with the converted money. 
The exception to this rule is Kindle eBooks, which you can purchase with gift cards in any eligible currency. For more information about using Amazon gift cards to buy Kindle eBooks, check out my article on using Amazon gift cards for Kindle.
How To Buy Amazon Gift Cards in Different Currencies?
Because of Amazon's international status, they offer a currency conversion option at checkout to simplify transactions between different countries. This tool is straightforward to use, provided your local currency and the converted currency are eligible for conversion. 
Further, you can only convert currencies on the desktop website version of Amazon.com. You cannot change currencies at any Amazon physical location or through the mobile app. 
If you're having trouble converting currencies, make sure that you're using a desktop computer to make the transaction. Additionally, when you convert currencies, the selected currency is saved for future transactions until you change it to another currency. 
To convert a gift card to a different currency, make your purchases as usual and continue to checkout. Once you're at the checkout page, do the following to change your currency: 
Click Change at the top right of your selected payment method. 
Scroll down the payment options and select Change Card Currency. 
Select the My Card Is in a Different Currency option. 
Choose your selected currency and hit Continue.
Can You Use an Amazon Gift Card To Purchase Items in a Different Currency?
You cannot use Amazon gift cards to convert currencies through checkout. To convert currencies, you must use one of the following credit or debit cards: 
Visa
Mastercard
American Express
Further, you cannot use Amazon gift cards to purchase other Amazon gift cards. Once you buy an Amazon gift card, that money belongs to Amazon, and the gift card is considered a credit. While the credit is kept in an Amazon balance, it cannot be transferred or converted outside of Amazon. 
Can You Redeem an Amazon Gift Card in a Different Currency?
Once you purchase an Amazon gift card in a select currency, you can only redeem it with that currency. For instance, if you buy a gift card in pounds sterling, the recipient cannot redeem that gift card in USD.
However, once the card is redeemed, it transfers that value to your Amazon account and converts it into your local currency. So while you cannot directly redeem the balance into a specific currency, you will still receive the value in your local currency. 
Can You Use Amazon Gift Cards in Other Countries?
Amazon operates in many nations across the globe. They even have a currency converter option to simplify transactions between countries. However, in most cases, you cannot use an Amazon gift card in another country. 
Thus, even though you can send Amazon gift cards internationally, but there is a specific process that you need to follow. I've covered all the details of that process in my other article on "Does Amazon Gift Card Work Internationally?". Make sure to check out that article as well.
Each country Amazon operates within has its own website and e-commerce distribution. While most websites appear and perform the same, they are locked into the region they serve.
For example, you can only use an Amazon.com gift card in the U.S. and only use an Amazon.co.uk gift card in the United Kingdom. 
Amazon denominates different websites for each country to account for specificity in currency, regional preferences (such as certain brands), and inflation rates for that region. To prevent legal issues, supply chain faults, and overall confusion, Amazon prohibits spending gift cards across its regional platforms. 
Can You Buy Amazon Cards for Someone in Another Country?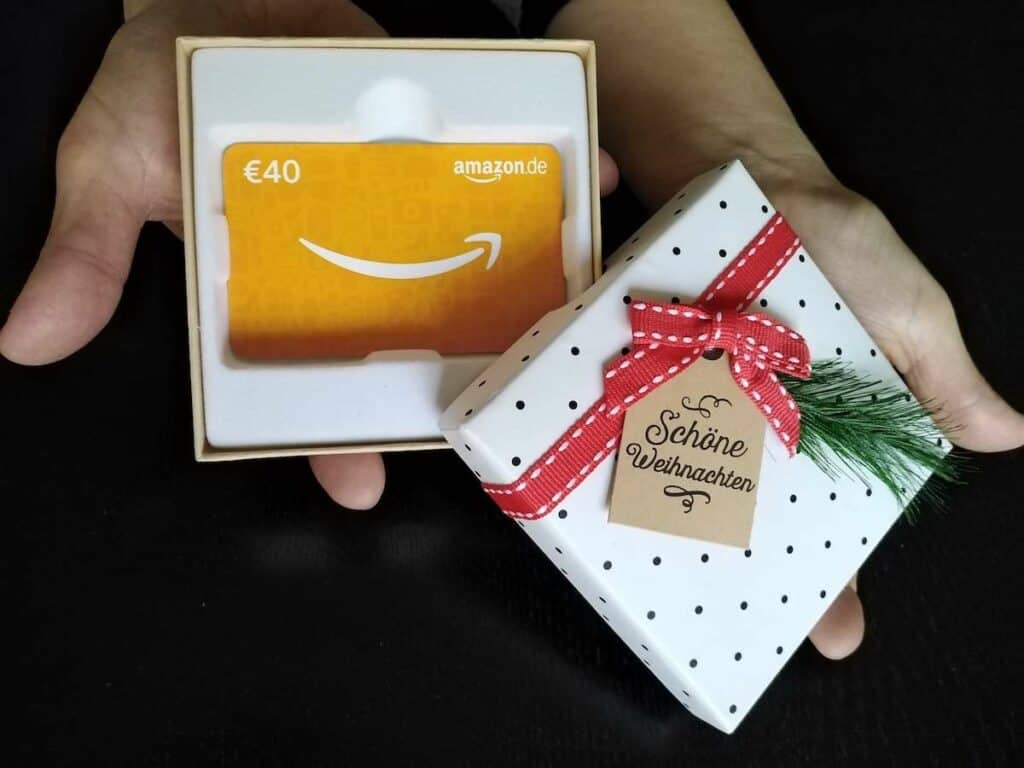 Regardless of where you are, you can purchase Amazon gift cards for recipients in other countries. Of course, that's only if Amazon services that location. 
While Amazon currently has regional websites for over a hundred countries, they do not cover everywhere. If you plan on sending an international gift card, ensure Amazon covers the recipient's country. 
Further, ensure you buy the gift card on the correct country's website. For example, purchase Canadian gift cards from Amazon.ca or British gift cards from Amazon.co.uk so that the recipient can redeem the gift card. 
Additionally, convert the currency of the gift card to its appropriate destination to make things more straightforward for the recipient. While these steps are a bit of extra work, they go a long way to simplify the gift-giving process for the recipient. 
If you choose to gift an Amazon gift card internationally, there are several ways to do so.
Buying Physical International Gift Cards
The most traditional way to send international gift cards is physically through the recipient's local Amazon e-commerce website. Go to the country's website for the recipient, purchase the gift card in their currency, then submit the recipient's address at checkout. 
Mailing Physical Gift Cards Internationally
Sometimes, buying items on other Amazon sites can be tricky. For example, many international websites are in different languages, which can be challenging to navigate even with an automatic translator. 
In these situations, buying a physical Amazon gift card and mailing it internationally may be more manageable. Purchase the gift card for their regional Amazon store, then ship it to the recipient's address. 
This option is more costly and time-consuming for some individuals. However, choosing to mail an Amazon gift card directly offers unique customization items for your gift, such as personalized packaging and a hand-written note. 
Buying International E-Gift Cards
While physical gift cards are more traditional and personal, e-gift cards are quickly becoming the fastest and most popular option. With the e-gift card option, Amazon makes gift-giving more straightforward than ever. 
You still need to purchase the gift card at the recipient's local Amazon store. However, rather than submitting a physical address, you send the card to their email instead. This option is instantaneous, environmentally friendly, and accessible for all to enjoy.