Can You Buy Amazon Gift Card With Google Pay? [Full Guide!]
Disclosure: This post may contain affiliate links. I may get a commission if you decide to purchase through my links, at no additional cost to you.
Trends can change quickly, which makes it hard to know what gifts to buy for our loved ones, but there's a good chance your friend or a family member has a new interest or gadget on their wishlist than last year.
An excellent way to solve this problem is to purchase a gift card. For those who are tech savvy, using Google Pay to buy an Amazon gift card might be a snap, but not everyone is a tech whiz. 
To buy an Amazon Gift Card with Google Pay, navigate to the Google Play store, select Amazon, and customize your gift card. Google Pay offers many options, from how much money you want to load onto the card to the design of the gift card for the personalized touch. 
Google Pay is a convenient way to purchase things online. This article will dive into how to buy an Amazon gift card using your Google Pay account. The steps are simple, easy to follow, and will change the way you send gifts to your loved ones. 
Does Amazon Accept Google Pay?
No, Google Pay has not yet been integrated with the eCommerce giant Amazon. However, you can purchase an Amazon gift card from a third party with Google Pay. Amazon accepts payment from everything from Mastercard to Amex, but not Google Pay. 
One way around this is to use Google Pay to purchase a digital gift card from one of your favorite brands or stores. Amazon is a popular choice for purchasing using Google Pay. 
Send Digital Gift Cards With Google Pay
Despite not being able to purchase products from Amazon with Google Pay, you can still buy and send digital gift cards using the payment platform. 
Recently, Google has rolled out a new feature on Google Pay that allows you to purchase and send gift cards from a plethora of brands we all love. Just set up a Google Pay account and browse the 150+ name brands. 
How Do I Send a Gift Card With Google Pay?
Surprising a loved one with a gift card through the Google Play store is simple and can be done anywhere. If you forgot about a birthday or couldn't find the perfect present, purchasing a gift card is a great way to show you care from anywhere in the world! 
All you need is a computer or phone, an Amazon account, and a valid credit card to purchase the gift card. Check out the simple steps below to see how the whole process works. 
Purchase Your Amazon Gift card With Google Pay
Follow the steps mentioned below to buy an Amazon gift card using Google Pay:
1. Navigate to the Google Pay Website
Simply google the Google Pay website or follow a link from Amazon to purchase your Amazon gift card. Either way, you will buy the gift card from the Amazon site, so have your login information handy. You'll also need your Google Pay information. 
2. Navigate to the Gift Card Option
You'll need to scroll to the bottom of the webpage to find this option. If you need help finding it, try using "gift card" as a keyword in your google search to bring you to the correct webpage and not the Google Play landing page. 
3. Select "Where To Buy"
This option will bring you to the brand selection menu. From this screen, you can browse the hundreds of brands and merchants that offer digital eGift cards. 
You will be presented with two options: "In Store" or "Online." Both lists will feature some brands as they have popular brick-and-mortar locations and convenient online shopping sites. 
4. Select "In Store" or "Online"
In this case, we want to purchase an Amazon card, so we will select "Online." Due to its popularity, Amazon will likely be near the top of the list of merchants, but if not, select the "see more" button at the bottom of the page. This will show the complete list of merchants for you to choose from. 
It's helpful to know that Google Pay also works to purchase physical gift cards that can be sent to loved ones if you think a digital gift card will likely get lost in someone's email. 
5. Select the Amazon Store
Once you find the Amazon store from the list of merchants, a simple click will take you to Amazon.com to purchase your gift card. 
Your best bet is to follow the steps outlined above to get to this webpage, as it ensures you'll be using Google Pay to purchase the gift card. 
6. Customize Your Online Gift Card
If you thought buying an Amazon gift card using Google Pay was boring, you'd better think again.
There are tons of ways to customize this practical and thoughtful gift. You can choose from several different designs to personalize your gift card's message and look. Amazon even offers card designs for specific holidays like Christmas or even graduation season.  
Next, select the amount of money you'd like to load onto your card. You can choose a preset amount or enter a custom one. Here is where you'll enter the email for the recipient too. 
Lastly, type up your heartfelt or thankful message and select a date for which you want to send the gift card. Amazon allows a generous 470 characters to send along with the gift card. 
Amazon Digital Gift Card Features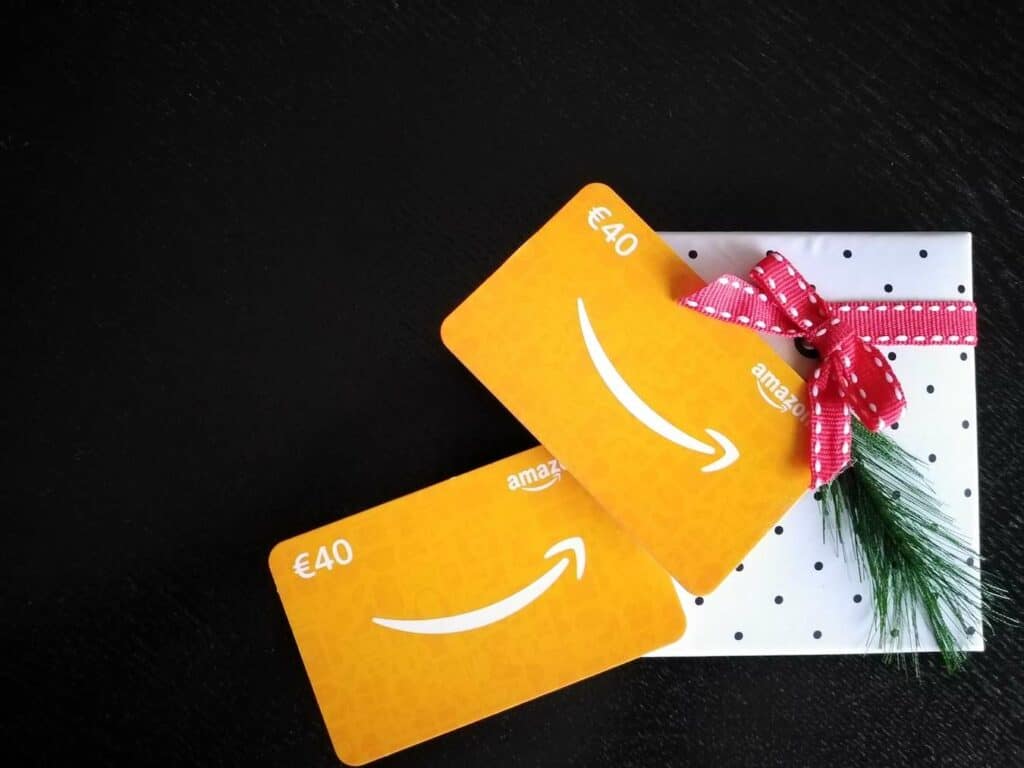 There are several features that make purchasing an Amazon gift card through Google Pay a great experience: 
The ability to add a personalized design to the digital card.
Generous character count limit for a message from the sender.
The ability to send the same digital gift card to several people at once.
Option to schedule your digital gift card to be sent on a specific date.
Ability to customize the amount of money loaded onto the card.
Can I Refund an Amazon Gift Card That I Buy Using Google Pay?
Unfortunately, Amazon does not refund gift cards, and neither will Google Pay. Once purchased, you can't get your money back. 
Fortunately, there are some alternatives to getting your money back for a digital gift card! 
Purchase an item from Amazon with the gift card and resell it on another platform
Sell your digital gift card on a gift card exchange website.
It's essential to keep in mind the risks associated with exchanging a gift card. You'll most likely always lose some money on the transaction. Whether it be in processing fees or exchanging for a gift card with a lower sum, you need to be sure you want to exchange the gift card before you complete the transaction. 
These tips and tricks can be applied to other digital gift cards too. Due to Amazon's wide selection of products and merchants, you will have the most luck exchanging this type of gift card. 
How Do I Sign Up for Google Pay?
Signing up for Google Pay is simple and streamlined. You'll need to download the Google Pay app to your phone to get started. From there, sign into your Google account to set up your Google Pay wallet. 
Next, follow the prompts to begin setting up your account. From your Google Pay account, you can add your credit cards, see your bank accounts, and even purchase gift cards from your favorite stores and brands.