Can You Use Amazon Gift Card To Pay Amazon Credit Card?
Disclosure: This post may contain affiliate links. I may get a commission if you decide to purchase through my links, at no additional cost to you.
Amazon gift cards are reloadable, prepaid cards purchased from the Amazon website or participating retailers. The cards allow users to buy goods on Amazon or pay for Amazon services, such as Prime. Sometimes, people receive Amazon gift cards as presents and want to use them for other services, such as paying a credit balance — but is it even possible to use an Amazon gift card to pay an Amazon credit card?
You cannot use an Amazon gift card to pay an Amazon credit card. Payments to an Amazon credit card balance require a valid bank account. Gift cards aren't linked to bank accounts, cost card issuers money to process, and could result in users racking up rewards with no benefit to the credit card company.
In this article, we'll discuss using an Amazon gift card to pay an Amazon credit card balance, why you can't do it, and what you have to do instead. Read on to learn more.
Does Amazon Accept Gift Cards to Pay a Credit Card Balance?
Amazon does not accept gift cards as payment methods for Amazon credit cards. Gift cards are limited to transactions on the Amazon website for goods or limited Amazon services, including Prime. The only way to pay an Amazon credit card balance is by linking a valid bank account.
Why Can't You Use Gift Cards to Pay an Amazon Credit Card Balance?
Prepaid cards, including Amazon gift cards, aren't linked to bank accounts. Once the balance reaches zero, no funds are available until the user reloads the card. Credit card issuers would have no payment security if they allowed people to use a gift card as a payment method.
Not only that, but credit cards, debit cards, and gift cards are all swipe transactions, meaning they're subject to interchange fees. Interchange fees require credit card companies to cover all costs associated with the processing and authorization of financial transactions.
This greatly cuts into the card issuer's profits. To avoid covering these costs, the banks only accept valid bank accounts so they can draw the money directly.
Additionally, if Amazon did allow people to pay their Amazon credit card balance with a gift card, people could easily take advantage of this. Customers could purchase as many gift cards as they wished, then use the funds on the card to pay their credit card payment.
Over time, they'd rack up loads of rewards on their Amazon credit card account. However, Synchrony wouldn't receive any benefits at all, making the relationship completely one-sided.
Payment Methods for Amazon Credit Cards
The only accepted payment method for Amazon credit cards as of 2022 is a valid bank account. This allows Synchrony to avoid interchange fees and lets users make payments and set up automatic payments with ease.
Fortunately, adding a bank account as a payment method for an Amazon credit card is easy and straightforward. Here's how:
Log into your Amazon account with your phone or web browser.
Hover or click the dropdown menu under your name.
Select Amazon Credit Cards.
Tap Manage at Synchrony.
Wait until the site transfers you to the Synchrony login page.
Enter your Amazon credit card login credentials at Synchrony.
Click Make a Payment.
Hover over the Payments tab.
Select Manage Payment Methods.
Tap Add Another Payment Method.
Enter your bank's routing number and checking account number.
Click Save.
If you'd rather speak to a Synchrony representative to add your bank account information, you can contact Synchrony by phone by dialing 1-866-419-4096. Listen to the prompts and follow the instructions to speak with a representative regarding your Amazon credit card account. Provide all necessary information to set up a bank account as a payment method.
Can You Transfer Amazon Gift Card Funds to a Bank Account?
You can't transfer Amazon gift card funds to a bank account — at least not directly. 
Amazon doesn't allow customers to receive cash refunds for the cards, so we have to explore other methods. As of 2022, the only way to get Amazon gift card funds into a bank account is by selling the gift card or by purchasing goods with the card and selling those goods for cash. Then, you'd have to deposit any acquired funds into your bank account.
These methods require multiple steps and are not quick or easy. Fortunately for you, I've written a detailed guide with workarounds on how to convert Amazon Gift Card funds to cash in your account! Make sure you check out my other article!
For your convenience, I'm covering a few ways below to convert your Amazon gift card balance into money.
Sell the Amazon Gift Card in Person
If you know someone who frequently shops on Amazon, get in touch with them. Inquire as to whether they'd be interested in purchasing an Amazon gift card. You can make the deal sweeter by offering the card at a discount. Most people have success selling gift cards at 70 to 90 percent of their value.
Once you successfully sell the card and receive the cash, you can deposit it into your bank account and use the funds to make a payment toward your Amazon credit card balance.
Sell the Amazon Gift Card Online
The internet is full of online gift card resellers, including GiftCards.com and Raise. These companies purchase gift cards in exchange for cash. Most users receive an average of 65 percent of the card's value. The major downside is that these companies often require users to mail in physical gift cards before processing payments.
To get more out of your Amazon gift card, try Reddit. Subreddits such as r/giftcardexchange allow users to swap or sell gift cards, usually at a discount. Amazon gift cards usually receive between 80 to 90 percent of the card's value, though users can negotiate and agree on a payment method before committing to the transaction.
After receiving payment, you can transfer funds to your bank account. From there, you can use the money to pay your Amazon credit card.
Buy Needed Items on Amazon and Keep The Cash
If you intend to purchase items within the next week or so, consider using the Amazon gift card to purchase those items and keep the cash equivalent in your bank account to put towards your Amazon credit card balance.
Some items to consider purchasing from Amazon include:
Pantry foods (i.e., noodles, cereal, canned goods, nuts, baking products, bread, etc.)
Snacks (i.e., crackers, cereal bars, granola, cookies, fruit snacks, etc.)
Pet goods (i.e., pet food, treats, litter, bones, toys, etc.)
Cleaning supplies (i.e., dish detergent, all-purpose cleaner, bleach, etc.)
Hygiene products (i.e., shampoo, conditioner, body wash, toilet tissue, etc.)
Amazon sells over 12 million products — everything from home goods to electronics — so if you're thinking about splurging soon, check their inventory first to see if they have what you need.
Buy Items on Amazon and Sell Them for Cash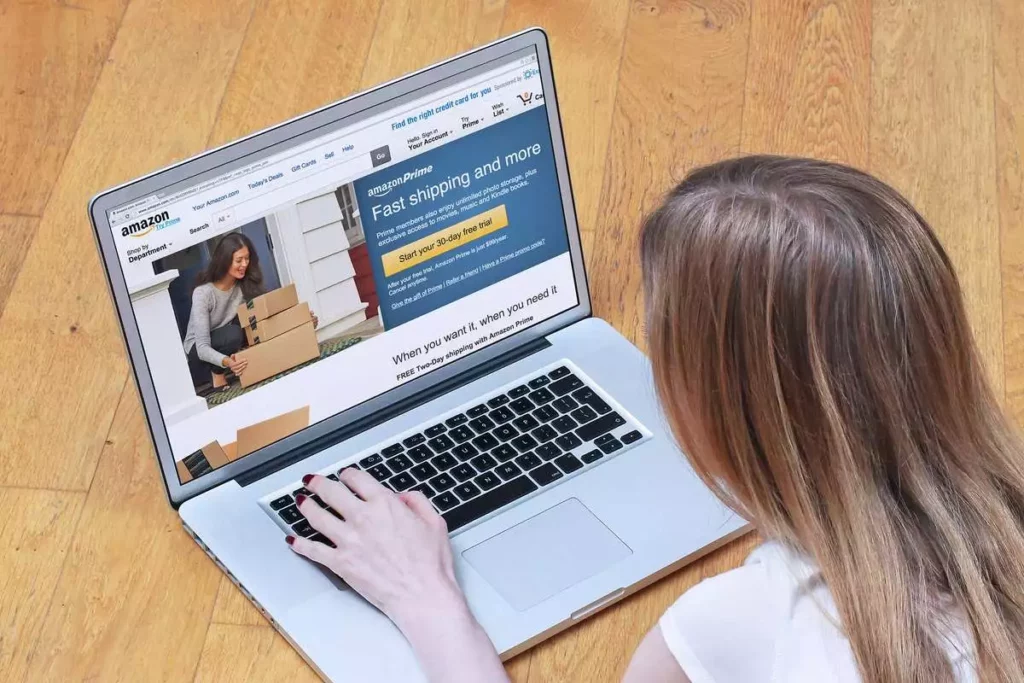 If you know someone who regularly uses a particular item, you could suggest purchasing the item in bulk on Amazon and selling it to them at a discounted price. For example, crafters often need yarn, paint, or fabric, and new parents may be interested in bulk amounts of formula or diapers. These are just a couple of examples of what you can buy and sell.
On the other hand, you could try your hand at making items and selling at a profit instead. Of course, this takes far more time and effort, so it's not going to put money into your bank account quickly — you'll have to find other ways to pay your Amazon credit card balance in the meantime.
Here are some ideas of items you could make to sell:
Baked goods
Pet products (i.e., custom collar charms, painted food bowl stands, etc.)
T-shirts
Homemade soaps
Handmade candles
Art and prints
The best places to sell these items are at farmer's markets, flea markets, or on social media marketplaces.
Once you start earning money, turn around and deposit it into your bank. Use it to apply a payment to your Amazon credit card account.