Does Amazon Gift Card Work in Canada? Everything to Know!
Disclosure: This post may contain affiliate links. I may get a commission if you decide to purchase through my links, at no additional cost to you.
If you have family or friends staying outside of the USA (like I have in Canada), every once in a while, you may want to send them a gift. But, sending a physical gift can be expensive and may even incur unwanted taxes and import duties! 
Amazon gift cards are a great alternative to physical gifts! But, you may be wondering if an Amazon gift card works in Canada? Can you buy an Amazon gift card for someone in Canada from the USA?
Although Amazon gift cards work in Canada, an Amazon gift card purchased on Amazon's US website can not be used in Canada. For an Amazon gift card to work in Canada, you will need to purchase the card on Amazon's Canada website.
In this article, I will provide all the information you need to know about using and sending Amazon gift cards to your loved ones in Canada. That, and much more!
So, let's get started!
Do Amazon Gift Cards Work in Canada?
Amazon gift cards are available in participating retail stores throughout Canada, and can be used to purchase millions of eligible goods from the Amazon website.
You can purchase the Amazon gift card for your Canadian relatives for any amount ranging from $5 to $2000! Furthermore, you can also choose from a variety of different branded cards to custom Amazon gift cards from the Amazon site!
What's more? Once the card is redeemed in Canada, it can be reloaded several times and used again and again!
However, just make sure that you don't buy on Amazon.com as gift cards purchased on the USA website won't work on Amazon in Canada. Let's learn more about that.
Do Amazon Gift Cards Bought in the USA Work in Canada?
Amazon gift cards are country-specific and cannot be used to purchase goods and services on other Amazon sites. For example, an Amazon.com gift card from the U.S. cannot be used to make a purchase on the Canadian Amazon site. 
I've previously explained this topic in great detail in another article titled "Do Amazon Gift Cards Work Internationally?". Make sure to check out that article as well for more details. 
If a Canadian recipient is sent an Amazon.com gift card, it will only be redeemable on Amazon.com and will be in USD. 
There are certain items that someone from Canada will be able to purchase on Amazon's US website, however, the list of products is very limited and will incur additional taxes to ship to Canada. Not to mention that even if products are available, the possibility to ship it to a particular location in Canada may be very low.
There are multiple reasons why you can't purchase an Amazon gift card in one country and redeem it in another. Money laundering is one of the foremost reasons. Additionally, there are multiple rules and legalities, and several restrictions in place when it comes to gift cards.
Thus, if you want to send a gift card to someone in another country (such as Canada), it is best to purchase the gift card from the Amazon site of that country. 
That said, not all countries have their own dedicated Amazon sites. Let's take a look at which countries you can buy an Amazon gift card for.
List of Countries That Have Amazon Gift Cards
At the time of writing this article, there are a total of 22 countries in which you can buy an Amazon gift card. Make sure to check the following list and purchase an Amazon gift card in the respecitve country using the link below.
| S. No | Country Name | Website Link |
| --- | --- | --- |
| 1 | Australia | www.amazon.com.au |
| 2 | Belgium | www.amazon.com.be |
| 3 | Brazil | www.amazon.com.br |
| 4 | Canada | www.amazon.ca |
| 5 | China | www.amazon.cn |
| 6 | Egypt | www.amazon.eg |
| 7 | France | www.amazon.fr |
| 8 | Germany | www.amazon.de |
| 9 | India | www.amazon.in |
| 10 | Italy | www.amazon.it |
| 11 | Japan | www.amazon.co.jp |
| 12 | Mexico | www.amazon.com.mx |
| 13 | Netherlands | www.amazon.nl |
| 14 | Poland | www.amazon.pl |
| 15 | Saudi Arabia | www.amazon.sa |
| 16 | Singapore | www.amazon.sg |
| 17 | Spain | www.amazon.es |
| 18 | Sweden | www.amazon.se |
| 19 | Turkey | www.amazon.com.tr |
| 20 | United Arab Emirates (UAE) | www.amazon.ae |
| 21 | United Kingdom (UK) | www.amazon.co.uk |
| 22 | United States (USA) | www.amazon.com |
Purchasing an Amazon gift card from the respective country also allows the recipient to buy goods in the local currency and they don't have to deal with currency conversions. 
How to Buy an Amazon Gift Card For Someone in Canada?
Hopefully, by now we've understood that we can buy an Amazon gift card for someone in Canada. However, we will need to use Amazon's Canada website to do so. 
The overall process of purchasing a gift card on the Canadian website is very similar to that in the USA. 
Nevertheless, here's what you need to do to buy an gift card for someone living in Canada. 
Step 1 – Login to Amazon's Canada Website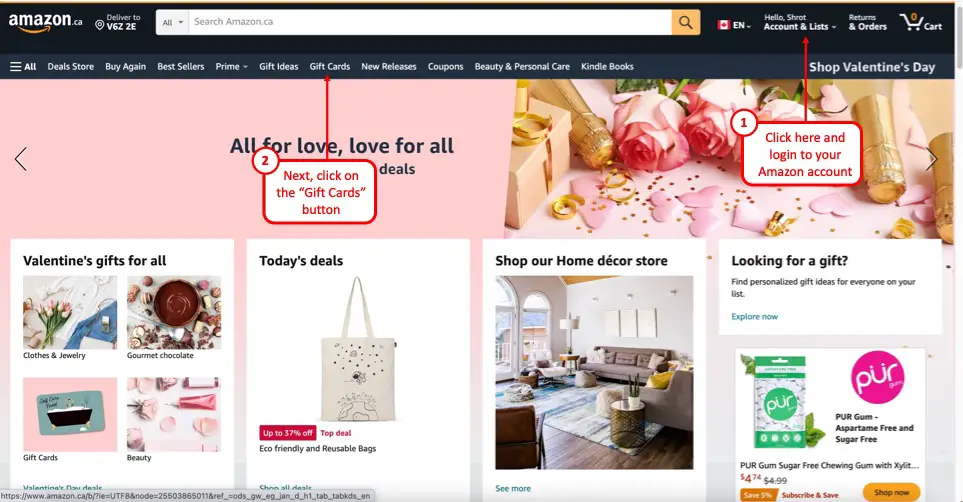 The first step is to open Amazon's Canada website. Then, click on the sign in button at the top right part of the screen. You should be able to locate it near the search bar at the top. 
On the sign in page, you can use your login credentials from Amazon.com. You don't need to create a new account for this. 
Simply type in the login details and sign in to your account on the Canadian website for Amazon.
Step 2 – Choose a Gift Card
The next step is to choose a gift card that you wish to buy for your dear one. 
To do so, you can either type in and search for "Gift Card" in the search bar. This should open the gift card page on Amazon.
Alternatively, you can also click on the "Gift Card" button on the secondary menu at the top of the web page. 
If you are not aware, Amazon offers three types of cost cards i.e. physical gift cards, print-at-home gift cards, and eGift cards. Other than that, you also get special brand cards that can be redeemed on that particular brand's store.
For instance, you can choose a Starbucks gift card. But, this can only be used with Starbucks. You can't buy Amazon products with these special brand cards. 
I'd recommend avoiding special brand cards and choosing from one of the three options previously mentioned.
Step 3 – Customize the Gift Card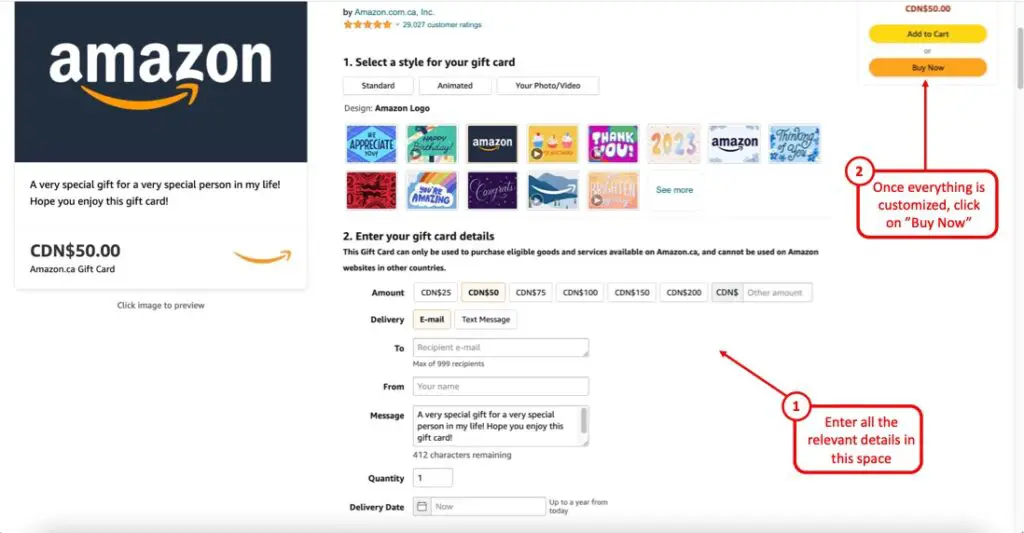 Once you've chosen the card, you have the option to customize the gift card. For instance, you'll have an option to enter a custom message for the recipient.
Likewise, you can also customize the look of the card. 
For physical cards, you also get various options such as pop out cards, or cards in a box (to make the recipient feel special!).
Enter all the necessary details. For eGift cards, you'll need to enter the email address of the recipient. For physical cards, type in the actual address of the person. 
You can choose to enter your name or you can keep it anonymous based on your preference. 
Also, don't forget to choose an appropriate denomination for the gift card. By default, you can choose from $25, $50, $75, $100, $150, or $200 amounts for the Canadian site. The amounts are usually in the local currency (unless specified otherwise).
You can also enter a custom amount up to a total of $2000 (Canadian).  
Once done, click on the "Buy Now" option.
Step 4 – Buy the Gift Card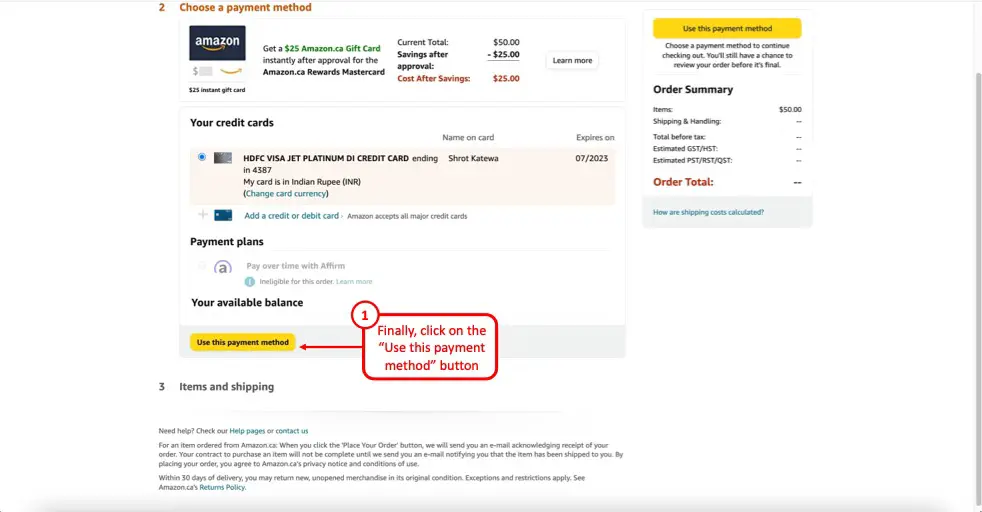 In the final step, choose your mode of payment. If you don't have a payment method added, feel free to add a new credit or a debit card. Then, click on the "Use this payment method" option.
Once you process the payment, you will receive a confirmation message on the screen. 
Generally speaking, the receipt should receive the eGift card within 5 minutes of making the payment but it could take up to 4 hours in some cases.
If you've purchased a physical gift card, it should usually be delivered within 2-3 business days. 
How to Redeem a Gift Card in Canada?
Redeeming the Amazon gift card on the Canadian website is equally easy and works just the same way you would redeem a card on Amazon.com. 
Once you've bought the gift card, an email will be sent to the recipient on the email address that you entered. It should generally be titled "Someone sent you an Amazon Gift Card". 
The recipient needs to open this email. Scroll down on the email to locate the claim code. The recipient then needs to copy the code, login to his or her Amazon.ca account, and paste the code in the "Redeem a gift card" section to add the balance to their account.
I've highlighted the complete step-by-step process with pictures to redeem an Amazon gift card in another article. Make sure to check out that article for full details.
If the person has received a physical gift card, they will need to open the box or the package to reveal the actual gift card. Then, flip it over and peel or scratch off the card where it says "peel here to reveal the claim code".
This will reveal the claim code. Follow the above steps and manually type in the claim code to redeem the gift card.
Can You Transfer an Amazon Gift Card to Another Country?
If you've already bought the Amazon gift card from Amazon.com to give to someone in Canada, there is very little that you can do about it officially. You cannot transfer an Amazon gift card to another country as this will just not work.
There are quite a few non-official things you can do though. I've written multiple detailed articles about several ways to use your Amazon gift card. For instance, you can convert your gift card to cash. Alternatively, you can transfer the gift card balance to your bank account. 
Otherwise, you can also use your Amazon gift card to buy other gift cards through PayPal and send this other gift card to your family in Canada! You can also exchange your gift cards on sites such as CardCash, GiftCash, Prepaid2Cash, or CardSell, 
Finally, you can use your Amazon gift card at many places that allow you to buy several day to day items that you would anyway spend your money on! Instead, just use the Amazon gift card that you bought for those items, and purchase a new gift card to send to your dear one in Canada.
Can You Use an Amazon Gift Card from Canada in the USA?
You cannot use an Amazon gift card purchased in Canada on Amazon.com for exactly the same reasons mentioned above. 
If you are living in Canada and want to send an Amazon gift card to someone in the USA, just follow the steps mentioned above for purchasing a card. Only this time, buy the card on Amazon.com instead of Amazon.ca. 
Just as mentioned above, you can use your Amazon.ca login credentials to purchase a gift card on Amazon.com.
Other Gift Cards That Can be Used Internationally
If all of this is too confusing for you, then perhaps you may want to consider other gift cards that can be used internationally just as you would in your home country. There are many options, but I'd recommend sticking only with VISA or MasterCard gift cards as they are most recognized across the globe.
Even so, make sure when purchasing these gift cards have explicitly mentioned that it can be used in international locations. 
One additional thing to note is that these cards may carry additional fees when using for payments in other than home locations. Some even have a limitation of using either only in physical stores or online. 
To be honest, I've found that Amazon gift cards are far less confusing than the other gift card options you find in the market as long as you follow the instructions mentioned in this article!
Credit to Hermes Rivera on Unsplash for the featured image of this article